Tyler, John (1790-1862) to Robert Tyler
High-resolution images are available to schools and libraries via subscription to American History, 1493-1943. Check to see if your school or library already has a subscription. Or click here for more information. You may also order a pdf of the image from us here.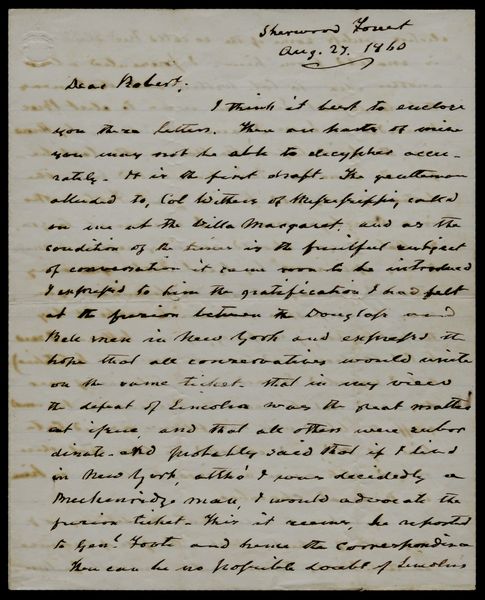 A high-resolution version of this object is available for registered users. LOG IN
Gilder Lehrman Collection #: GLC07112 Author/Creator: Tyler, John (1790-1862) Place Written: Virginia Type: Autograph letter signed Date: 27 August 1860 Pagination: 3 p. : docket ; 24.8 x 19.9 cm.
Summary of Content: Tyler, former President of the United States, elaborates on the 1860 Presidential election to his son Robert. States that he discussed the election with Colonel William T. Withers of Mississippi. Expresses approval at the fusion of Stephen Douglas' and John Bells' supporters in New York, and declares "that in my view the defeat of Lincoln was the great matter at issue, and that all others were subordinate." Encloses a letter (not included) from General Foote, a Douglas supporter. Expresses his support of Presidential candidate John Cabell Breckinridge and Breckinridge's running mate Joseph Lane. Compares William Seward, who was defeated for Republican nomination by Abraham Lincoln, to the Late Roman Republican figure Cataline, one of Cicero's nemeses. Referring to the Republicans, states "I have in me hope that a defeat of the negro-men now will dissolve this party." Discusses his wheat crop and inquires as to Robert's well-being. Written from Sherwood Forest, Tyler's plantation in Virginia. Robert Tyler (1816-77) was the son of former president John Tyler. During his father's presidency, Tyler and his wife lived in the White House. He served as the president's private secretary; his wife as White House hostess. Tyler subsequently settled in Philadelphia and became the leader of Pennsylvania's Democratic party. At the outset of the Civil War, a mob attacked Tyler's home, forcing him to flee to Virginia. Tyler sided with the South, and served as registrar of the Confederate treasury. After the war, he moved to Alabama, where he edited the influential Montgomery Advisor and became active in Democratic party politics.
Background Information:
Full Transcript: Sherwood Forest
Aug. 27. 1860
Dear Robert:
I think it best to enclose you these letters. There are parts of which you may not be able to decypher accurately - It is ...the first draft. The gentleman alluded to, Col Withers of Mississippi, called on me at the Villa Margaret and as the condition of the times is the fruitful subject of conversation it came soon to be introduced I expressed to him the gratification I had felt at the fusion between the Douglass and Bell men in New York and expressed the hope that all conservatives would unite on the same ticket - That in my view the defeat of Lincoln was the great matter at issue, and that all others were subordinate - and probably said that if I lived in New York, altho' I was decidedly a Breckenridge - man, I would advocate the fusion ticket - This it reasons, he reported to Genl - Foote and hence the correspondence
There can be no possible doubt of Lincoln's [2] election unless some of the so called Free States is snatched from him - I presented also another idea to Col. Withers and that was that to defeat Lincoln was to elect Breckenridge or Lane I cared not which, by throwing the first before the House - the last before the Senate - This has called forth the letters of my old friend Genl. Foote who is a Douglass man - I enclose it to you, so that if you should see any reference made to my opinions by Genl. Foote, [strikeout] [inserted: or] any others which may call for explanation, you may be in proper position to make it by the publication, if necessary, of my letter - I said to Col. Withers (and hence the reference to Cataline) that I regarded Seward as the Cataline of our day - and that to reach the Presidency he would quaff the blood with his fellows as did Cataline of old, and expressed the hope that there would still arise a Cicero to denounce him in the Senate chambers -
I am here to superintend the delivery of my crop of wheat, which altho full of promise on the 1. June. turns out a miserable failure - [3] I shall remain during the week and then back to Hampton - Do give me some acct - of Pennsylvania. How goes the [night]? I think, after all that every thing depends on her - If I deceive not myself Breckenridge will carry pluralities in a large majority of the Southern States so as to present Lane to the Senate, should Lincoln not be elected by popular vote - I live in the hope that a defeat of the negro-men now will dissolve this party - Write me soon - Love to all

Yr Father
John Tyler
P.S. The article in the Tribune was admirable -

[docket]
Aug 27th - 1860 -
On the Fusion of
the Bell & Brechenridge
[struck: ridge] Ticket
See More
People: Tyler, John, 1790-1862
Tyler, Robert, 1816-1877
Bell, John, 1797-1869
Breckinridge, John C. (John Cabell), 1821-1875
Douglas, Stephen Arnold, 1813-1861
Lane, Joseph, 1801-1881
Lincoln, Abraham, 1809-1865
Seward, William Henry, 1801-1872
Withers, William Temple, 1825-1889

Historical Era: National Expansion and Reform, 1815-1860
Subjects: PresidentElectionGovernment and CivicsPoliticsRepublican PartyClassical World and Ancient CivilizationDemocratic PartyAfrican American HistorySlaveryAbolitionWheatAgriculture and Animal HusbandryVice President
Sub Era: Lincoln