Washington, George (1732-1799) to Edmund Randolph
High-resolution images are available to schools and libraries via subscription to American History, 1493-1943. Check to see if your school or library already has a subscription. Or click here for more information. You may also order a pdf of the image from us here.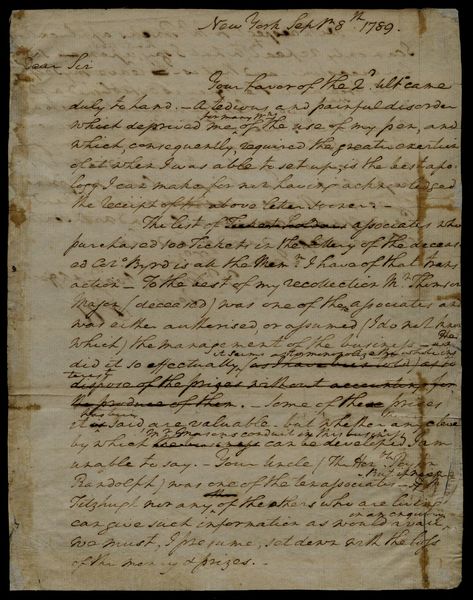 A high-resolution version of this object is available for registered users. LOG IN
Gilder Lehrman Collection #: GLC07161 Author/Creator: Washington, George (1732-1799) Place Written: New York, New York Type: Autograph letter signed Date: 8 September 1789 Pagination: 2 p. : docket ; 25.3 x 19.7 cm.
Summary of Content: Signed with initials ("G.W.") President Washington states that a painful disorder prevented him from replying sooner to a letter from Randolph. Discusses the lottery of the deceased Colonel Byrd, stating that one of the associates of this lottery, Thomson [Mason?], was authorized to manage the distribution of the lottery prizes. Reports that Edmund's uncle, Peyton Randolph, was also one of the Lottery's associates. Referring to a governmental post sought by a Mr. Powell, states that "under my best information and a full view of all circumstances I shall endeavor to the best of my judgment to combine justice to individuals with the public good making the latter my primary object."
Background Information: Signer of the U.S. Constitution. Randolph served as United States Attorney General 26 September 1789-1795 and as Governor of Virginia 1786-1788.
Full Transcript: New York Septr 8th. 1789.
Dear Sir
Your favor of the 2d. Ulto came duly to hand. - A tedious and painful disorder which deprived me [inserted: for many Wks] of ...the use of my pen, and which, consequently, required the greater exertion of it when I was able to set up, is the best apology I can make for not having acknowledged the receipt of the above letter sooner -
The list of [struck: Ticket holders] associates who purchased 100 Tickets in the Lottery of the deceased Colo. Byrd is all the Memr. I have of that transaction - To the best of my recollection Mr. Thomson Major (deceased) was one of the[inserted: se] associates and was either autherised or assumed (I do not know which) the management of the business - [strikeout] [inserted: He] [illegible] did it so effectually [struck: (as I have been told) as to dispose of the prizes without accounting for the produce of them.] [inserted: it seems as to monopolize the whole interest]- Some of the[struck: se] prises it [struck: is] [inserted: has been] said, are valuable- but whether any cleue by which [struck: the business] [inserted: Mr. Masons conduit in this business can be developed I am unable to say. - Your Uncle (the Honble Payton Randolph) was one of the ten associates- [struck: If] [inserted: But if neither] Mr Fitzhugh nor any [inserted, struck: other] of the others who are living can give such information as would avail [inserted: in an enquiry] we must, I presume, set down with the loss of the money & prizes.-
[2] With respect to Mr. Powell's application I can only repeat [inserted: to you] what I say [inserted: to all others] upon [struck: all] similar occasions - [struck: and] that is - [struck: to] leave myself entirely free until the Office is established and the moment [inserted: shall] arrive when the nomination is to be made - then, under [inserted: my best information and] a full view of all circumstances I shall endeavor to the best of my judgment to combine justice to individuals with the public good making the latter my primary object. - My best [struck: respects] wishes attend M Randolph and your family and with sentimts. of sincere regard and friendship
I am - Dr. Sir
Yr: Most Obed. & Affecte
Servt.
GW -
[docket]
Edmund Randolph Esqr.
8th Sep: 1789
See More
People: Randolph, Edmund, 1753-1813
Washington, George, 1732-1799
Mason, Thomson, 1733-1785
Randolph, Peyton, 1721-1775

Historical Era: The New Nation, 1783-1815
Subjects: PresidentHealth and MedicalLotteryOffice SeekerGovernment and Civics
Sub Era: The Early Republic