Stevens, Aaron D. (1831-1860) to his sister
High-resolution images are available to schools and libraries via subscription to American History, 1493-1943. Check to see if your school or library already has a subscription. Or click here for more information. You may also order a pdf of the image from us here.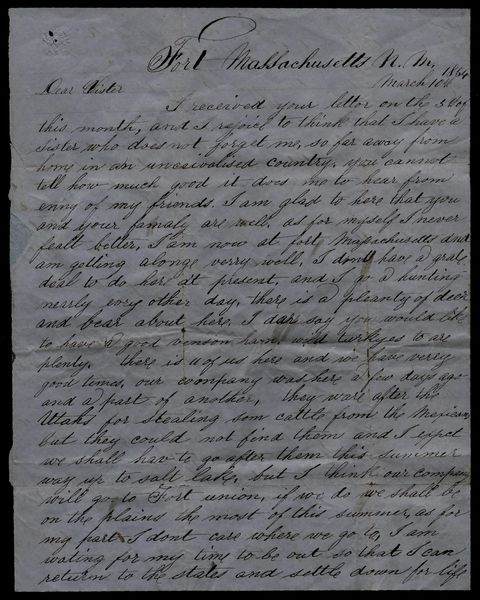 A high-resolution version of this object is available for registered users. LOG IN
Gilder Lehrman Collection #: GLC07231.02 Author/Creator: Stevens, Aaron D. (1831-1860) Place Written: Fort Massachusetts, New Mexico Type: Autograph letter signed Date: 10 March 1853 Pagination: 2 p.
Tells news of life as dragoon, and boredom of time at Fort Massachusetts. Mentions the possibility of tracking Utah Indians to Salt Lake, possibility of returning east, of traveling to California. Discusses brother Lemuel's decision to become a whaler.
Fort Massachusetts, N.M. Dear Sister March 10th [inserted: 1854]
I received your lettor on the 5th of this month, and I rejoice to think that I have a sister who does not forget me, so far away from home in an unceivalised country. you cannot tell how much good it does me to hear from enny of my friends. I am glad to here that you and your famaly are well. as for myself I never fealt better. I am now at fort Massachusetts and am getting alonge verry well. I dont have a grate deal to do here at present, and I go a hunting nearly evry other day, there is a pleanty of deer and bear about here. I darr say you would like to have a good venson ham. wild turkyes to are plenty. there is 11 of us here and we have verry good times. our company was here a few days ago and a part of another, they ware after the Utahs for stealing som cattle from the Mexicans, but they could not find them and I expect we shall hav to go after them this summer way up to salt lake, but I think our company will go[struck: o] to Fort union, if we do we shall be on the plains the most of this summer, as for my part I dont care where we go to, I am wating for my time to be out so that I can return to the states and settle down for life [2] I think I shall settle down where Henry is, if I dont go to Calaforina. Henry speaks verry intising about the place where he is. he tells me I can get grate wages at my trade there.
you sayd something about me living a batchalor yet. well I may live the same all my life yet. but I think I shall get marred soon after comming to the states. for I think it would be the only thing to get this roving mind out of my head.
I cannot healp thinking of Lemuel. I wounder what put it in his head to go a whaling, he must like it better than I should. the army is a bad[text loss] but a voiage wount do him enny harm it will make him a tuf harty fellow. I expect it will be some time before I see him again. I should liked to have had a lettor from him before he went away for I never had a letter from him yet. I wrote him a lettor about five months ago and he never awnsered it yet but my best wishes for him on his voiage as it is for all my friends.
as I have no more to say I will close my lettor give my love to Joseph Lucy Betsey Jululey and all inquiring friends, and now with menny wishes I bid you good by untill I here from you again.
I am forever your loving brother
(Please excuse misstakes Aaron D. Stevens
as I am not verry purtickler)