Stevens, Aaron D. (1831-1860) to his sister, Lyddia M. Pierce
High-resolution images are available to schools and libraries via subscription to American History, 1493-1943. Check to see if your school or library already has a subscription. Or click here for more information. You may also order a pdf of the image from us here.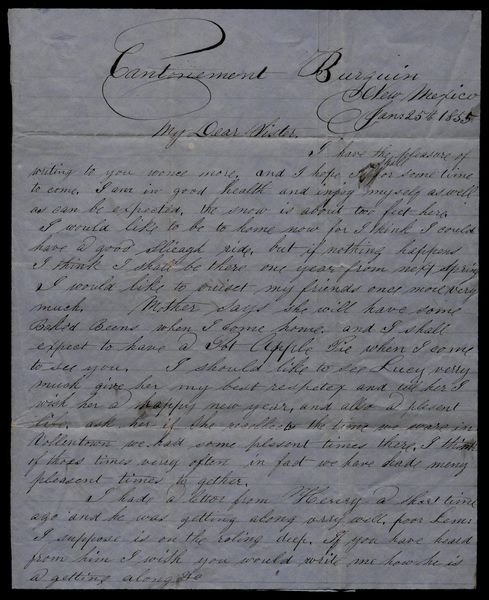 A high-resolution version of this object is available for registered users. LOG IN
Gilder Lehrman Collection #: GLC07231.03 Author/Creator: Stevens, Aaron D. (1831-1860) Place Written: Cantonment Burgwin, New Mexico Type: Autograph letter signed Date: 25 January 1855 Pagination: 2 p. : address
Misses family and reminiscences about childhood. Mentions news of cousin marrying Charles Whipple. Discusses possibility of coming home or of moving west.
Cantonement Burguin
New Mexico
Jan: 25th 1855
My Dear Sister,
I have the pleasure of writing to you wonce more, and I hope I [inserted: shall] for some time to come, I am in good health and injoy myself as well as can be expected. the snow is about two feet here. I would like to be to home now for I think I could have a good Slieagh ride, but if nothing happens I think I shall be there one year from next Spring. I would like to vuiset my friends once more very much. Mother says she will have some Baked Beans when I come home. and I shall expect to have a Hot Apple Pie when I come to see you. I should like to see Lucy verry much give her my best respetcx and tell her I wish her a happy new year, and also a plesent life. ask her if she recollects the time we ware in [Vollentown] we had some plesent times there. I think of thoss times verry often in fact we have hade many pleasant times to gether.
I hade a lettor from Henry a short time ago and he was getting along verry well. poor Lem: I suppose is on the roling deep. If you have heard from him I wish you would write me how he is a getting along &c [2]
I have not hade but two lettors from Father and I have written him at least six or seven. and I cannot tell why he does not get my lettors, for I direct them to Norwich Town.
I understand that Cousen Jane and Charles Whipple are marred. well that is verry good I wish them success in all these under takins.
I expect all the younge people will be marred when I come home, but I expect it will be some time yet before I am marred if at all.
I shall make my home in the west after this and perhaps I may get marred one of thes days my self. I have only one more to stay in this country if the Indiens dont get my heir if they do why this is just as good ground to be lade in as enny. the Indiens are verry still at present but I expect we will have to go after them next spring.
Give my best respetcs to all inquiring friends and I will bid you good by untill I have the pleasure of reading a letter from you.
Your loving Brother
A. D. Stevens
{Lyddia M. Pierce}
[address]
Mrs. Lyddia M. Pierce
Norwich Citty
Connectticut
[docket]
[S]t Union N. M
Feby 2, 1855