Stevens, Aaron D. (1831-1860) to his brother Henry
High-resolution images are available to schools and libraries via subscription to American History, 1493-1943. Check to see if your school or library already has a subscription. Or click here for more information. You may also order a pdf of the image from us here.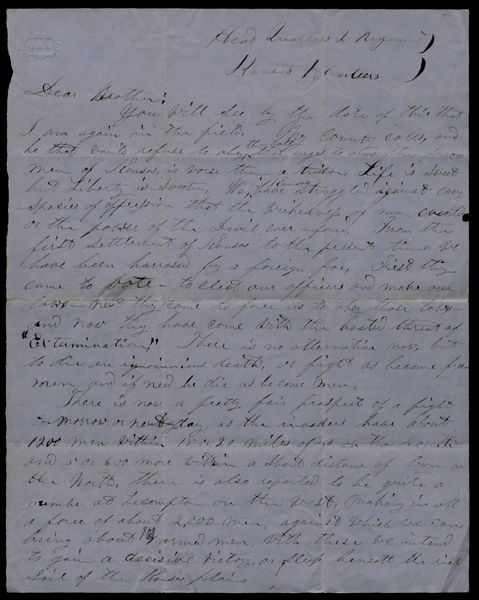 A high-resolution version of this object is available for registered users. LOG IN
Gilder Lehrman Collection #: GLC07231.04 Author/Creator: Stevens, Aaron D. (1831-1860) Place Written: Kansas Type: Autograph letter signed Date: 28 August 1856 Pagination: 2 p.
Discusses conflict over slavery in Kansas, describing it as a "struggle against every species of oppression" (namely slavery). Foresees the probability of violence between 2000 "invaders" and 700 freemen. Laments the interception of mail from Kansas by pro-slavery Missourians who "let nothing pass in the shape of letters that doesn't exactly suit their fancy." Written from Headquarters 2 Regiment Kansas Volunteers.
Head Quarters 2 Regament)
Kansas Volunteers)
Dear Brother:
You Will see by the date of this that I am again in the field. My County calls, and he that would refuse to obey [inserted: the call] that urges to arms the freemen of Kansas, is worse than a traitor. Life is sweet but Liberty is sweeter. We [inserted: in Kansas] have struggled against evry species of oppression that the wickedness of man evented or the power of the Devil ever [imposed]. From the first settlement of Kansas to the present time We have been harassed by a foreign foe. First they came to [fight] - to elect our officers and make our laws - now they come to force us to obey those laws and now they have come with the hostil threat of "Extermination." There is no alternative now, but to die in ignominious death, or fight as become free men and if need be die as become men.
There is now a pretty fair prospect of a fight tomorrow or next day, as the invaders have about 1200 men within 15 or 20 miles of us on the South and 5 or 600 more within a short distance of town on the North, there is also reported to be quite a number at Lecompton on the West, Making in all a force of about 2,000 men against which we can bring about [700] armed men, with these we intend to gain a decisive victory, or sleep beneath the rich soil of the Kansas plains.
[2] I have not heard from home for a long, long time on account of the depredations there [inserted: are] being committed daily upon our mail matter by the Missourians. they let nothing pass in the shape of letters that does not exactly suit their fancy. But I have not time to write more to night as the orders have just been given to be in readiness to march at 9 O'clock to morrow morning. We may have warm work tomorrow, if we do you you may expect to hear [inserted: hear] [struck: from] [inserted: that] your Brother has died honorably, fighting [struck: for freedom] in the front ranks of freedom.
Your humble brother
Chas. Whipple
Aug 28th 1856 Col. 1st Regement
Kansas Volunteers
Aaron D. Stevens
[Docket]
Dwight