Stevens, Aaron D. (1831-1860) to his brother Henry
High-resolution images are available to schools and libraries via subscription to American History, 1493-1943. Check to see if your school or library already has a subscription. Or click here for more information. You may also order a pdf of the image from us here.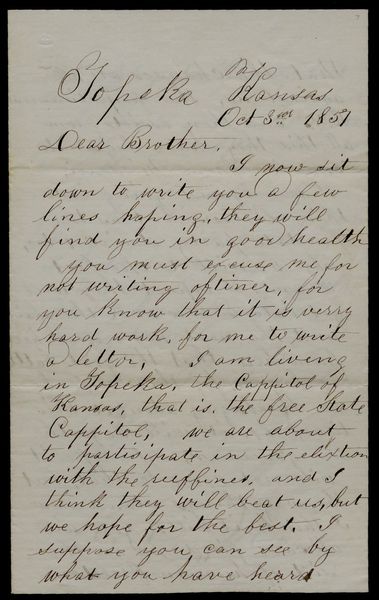 A high-resolution version of this object is available for registered users. LOG IN
Gilder Lehrman Collection #: GLC07231.07 Author/Creator: Stevens, Aaron D. (1831-1860) Place Written: Topeka, Kansas Type: Autograph letter signed Date: 3 October 1857 Pagination: 4 p. : envelope
Summary of Content: Discusses the upcoming election in Kansas, i.e. the second election over the Lecompton Constitution, the likelihood of free state supporters' defeat, and the influx of border ruffians from Missouri. Was against going into the election. Foresees that the results will lead to violence. Requests for brother to send "degerrotype" of brother and wife. Reminds of taking name of C Whipple.
Full Transcript: Topeka, Kansas
Oct 3rd 1857
Dear Brother,
I now sit down to write you a few lines hoping they will find you in good health
you must excuse me for not ...writing oftiner, for you know that it is verry hard work, for me to write a lettor. I am living in Topeka, the Cappitol of Kansas, that is, the free State Cappitol, we are about to partisipate in the elextion with the ruffines, and I think they will beat us, but we hope for the best. I suppose you can see by what you have heard [2] that the chanses are all against us. the porpotionment &c. &c. and then asside from all this they have begun to come in from Missouri.
I was against going into this elextion, but as the free state party desided too, why, we will do the best we can. I expect they will get into a row over the afair and the next news you here from here that the grate battle is begun. for there will be no humbuging about it this time, for it will be with the goverment. I hope it will not come to that, but the way things stand now I think it will. you will allwase find me on the side of human freedom [3] not only to Kansas, but to the world. I had expectd to be able to go home this fall but I see I shall not. I wrote to Father a few dayes ago. I have not heard from him for a long time nor enny of you I hope you will all write often if I do not.
Give my love to your wife and tell her I should be verry happy to see her.
Yours truley
A.D. Stevens
{P.S. Write as soon as you get this}
H. E. Stevens

[4] Send me your's and yours wife's degerrotype if you please and I will send you mine.
and also when you write direct your lettors to C. Whipple for I go by that name here. I believe I told you all about it here to fore if I didn't I will some time.
Your Brother,
A.D.S.
[envelope]
Mr Henry E. Stevens
St Anthoney's Falls
N.Y.See More
People: Brown, John, 1800-1859
Stevens, Aaron D

Historical Era: National Expansion and Reform, 1815-1860
Subjects: John BrownSlaveryAfrican American HistoryAbolitionChildren and FamilyPhotographyElectionPoliticsGovernment and CivicsState Constitution
Sub Era: