Carrs, J. N. (fl. 1874) [Pay voucher of Philip G. Gains]
High-resolution images are available to schools and libraries via subscription to American History, 1493-1943. Check to see if your school or library already has a subscription. Or click here for more information. You may also request a pdf of the image from us here.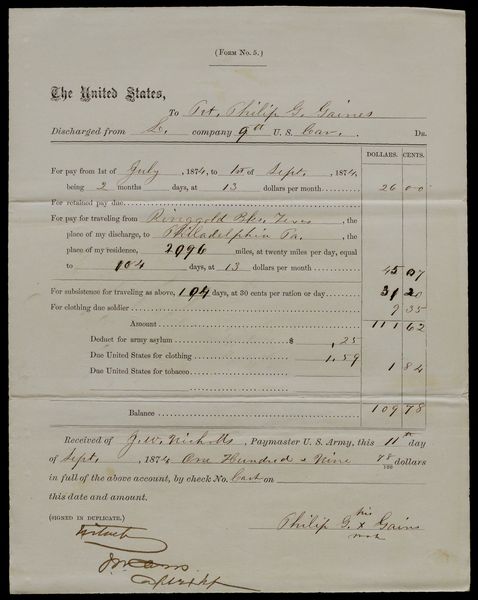 A high-resolution version of this object is available for registered users. LOG IN
Gilder Lehrman Collection #: GLC07334.02.02 Author/Creator: Carrs, J. N. (fl. 1874) Place Written: s.l. Type: Document signed Date: 11 September 1874 Pagination: 2 p. ; 27.5 x 22 cm.
Summary of Content: States that Gains, an African American private in Company L, 9th Cavalry, received money from J. W. Nicholls, United States Paymaster. Signed by [Carrs?] as a witness. Contains an "x" signifying Gains' signature.
Background Information: The 9th Cavalry was composed of African Americans known as Buffalo Soldiers. With the 10th Cavalry, the 9th was intended to assist in quelling Native American uprisings following the Civil ...War. Captain Francis Moore was one of the 9th Cavalry's first recruiters.See More
People: Carrs, J. N., fl. 1874
Gains, Philip G., b. ca. 1851
Nicholls, James W., fl. 1863-1875

Historical Era: Civil War and Reconstruction, 1861-1877
Subjects: Military HistoryAmerican WestAmerican Indian HistoryAfrican American HistoryAfrican American TroopsSoldier's Pay
Sub Era: Reconstruction