Fletcher, Francis H. (b. 1841) to Jacob C. Safford
High-resolution images are available to schools and libraries via subscription to American History, 1493-1943. Check to see if your school or library already has a subscription. Or click here for more information. You may also request a pdf of the image from us here.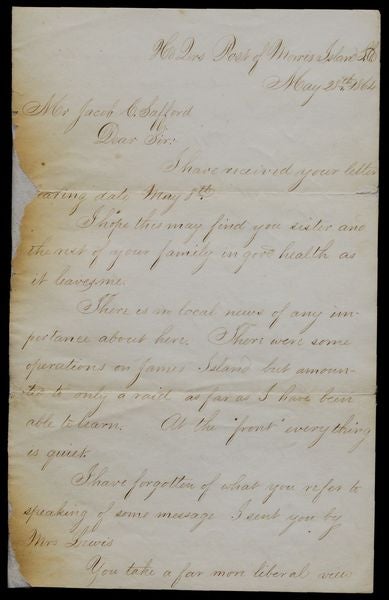 A high-resolution version of this object is available for registered users. LOG IN or SUBSCRIBE
Summary of Content: Fletcher, a black soldier in the 54th Massachusetts Colored Infantry, complains bitterly of the inequality of treatment and pay between the white and black soldiers. "Just one year ago to day our regt was received in Boston with almost an ovation, and at 5 P.M. it will be one year …in that one year no man of our regiment has received a cent of monthly pay all through the glaring perfidy of the U.S. Govt." He references an act for equal pay passed in 1864, "All the misery and degradation suffered in our regiment by its members' families is not atoned for by the passage of the bill for equal pay." Expresses his anger and resentment about the situation, "I cannot any more condemn nor recite our wrongs, but console myself that One who is able has said Vengeance is mine and I will repay."
Background Information: Fletcher enlisted as a private at age 22 in Company A, 54th Regiment Massachusetts Volunteer Infantry on February 13, 1863 from his home in Salem, Massachusetts. During his service, he was promoted to ...Sergeant, normally the highest rank given to black soldiers. The 54th Massachusetts is famous for its refusal to accept the unequal pay offered to black soldiers. As a result, the men of the 54th did not receive any pay for the first 18 months of their service. Fletcher served in the 54th Massachusetts until the regiment disbanded at the end of the war. He was mustered out on 20 August 1865 in Mount Pleasant, South Carolina.
See More
People: Fletcher, Francis H., b. 1841
Safford, Jacob C., fl. 1864

Historical Era: Civil War and Reconstruction, 1861-1877
Subjects: Civil WarMilitary HistoryAfrican American HistoryAfrican American TroopsSoldier's PayUnion ForcesGovernment and CivicsLawCongressReligion
Sub Era: The American Civil War