Wheeler, Lysander (fl. 1837-1903) to his parents, sister and [brother-in-law]
High-resolution images are available to schools and libraries via subscription to American History, 1493-1943. Check to see if your school or library already has a subscription. Or click here for more information. You may also order a pdf of the image from us here.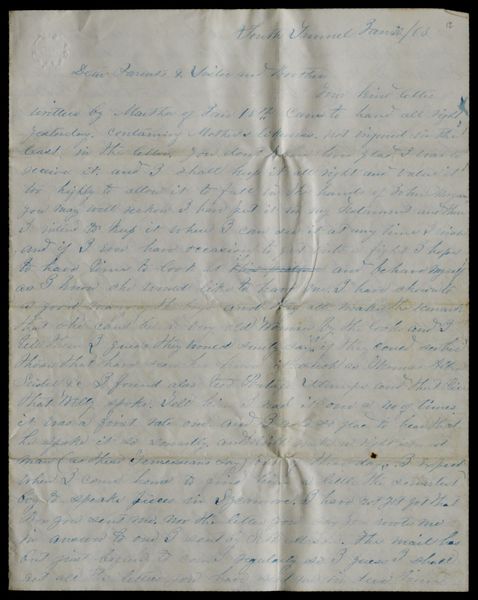 A high-resolution version of this object is available for registered users. LOG IN
Gilder Lehrman Collection #: GLC07460.012 Author/Creator: Wheeler, Lysander (fl. 1837-1903) Place Written: South Tunnel, Tennessee Type: Autograph letter signed Date: 30 January 1863 Pagination: 4 p. ; 25 x 20 cm.
Summary of Content: Writes that he has received his mother's likeness and will treasure it. Asks that Darius write as soon as he is well enough to do so. General Rosecrans has prohibited picket fires at night, so they have to make a big pile of coals and sleep beside it to keep warm during picket duty. Wheeler doesn't think Morgan will confront them for a while. Writes that the Union victory at Murfreesboro was so difficult that "old Bragg claims one on his side." Reports that Porter West, and Phil Hartman were wounded at Vicksburg. He encloses a letter from Captain Warner to Darius; which reports that the Captain has typhoid and is boarding at a darkie house. Wheeler requests that someone from home send him some black linen thread, as his clothes are starting to fall part and he has to constantly mend them. Writes that they are gathering all usable guns but the "Rebels have been ahead of us the object being to disarm the inhabitants." Closes the letter by reporting that there have been many sickly men in his regiment during the winter time. He writes that two or three per week have been dying of illness.
Background Information: Lysander Wheeler, a farmer from Sycamore, Illinois, enlisted in the Union Army on August 7, 1862 as a private. He was mustered into Company C of the 105th Illinois infantry and later ...promoted to sergeant. Wheeler was mustered out on June 7, 1865.See More
People:
Historical Era: Civil War and Reconstruction, 1861-1877
Subjects: Civil WarMilitary HistoryUnion Soldier's LetterUnion ForcesSoldier's LetterChildren and FamilyWomen's HistoryPhotographyHealth and MedicalMilitary CampUnion GeneralConfederate General or LeaderGuerrilla WarfareBattleBattle of VicksburgInjury or WoundTyphoid FeverAfrican American HistoryFreemenLandlord and TenantClothing and AccessoriesMilitary UniformsConfederate States of AmericaWeaponryDeath
Sub Era: The American Civil War