Washington, George (1732-1799) to David Stuart
High-resolution images are available to schools and libraries via subscription to American History, 1493-1943. Check to see if your school or library already has a subscription. Or click here for more information. You may also order a pdf of the image from us here.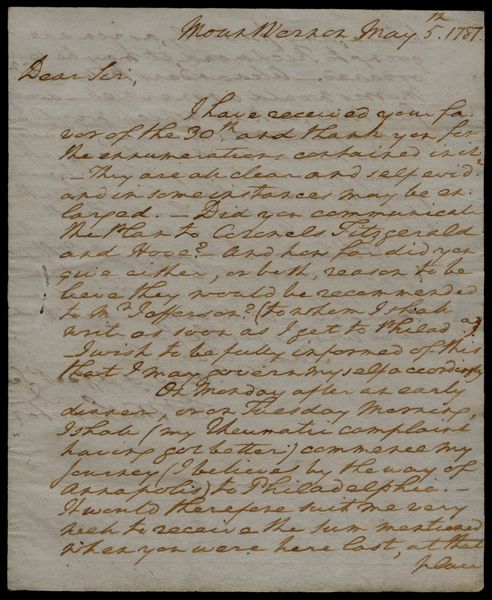 A high-resolution version of this object is available for registered users. LOG IN
Gilder Lehrman Collection #: GLC07546 Author/Creator: Washington, George (1732-1799) Place Written: Mount Vernon, Virginia Type: Autograph letter signed Date: 5 May 1787 Pagination: 2 p. + docket 23.2 x 18.9 cm + docket
Summary of Content: Washington thanks Stuart for his observations on the fitness of the Potomac for the fur trade with China. Asks if Stuart has informed Colonel John Fitzgerald and Colonel Howe of his observations and inquires if he gave them reason to believe those ideas "would be recommended to Mr. Jefferson?" Washington also writes that he will soon journey to Philadelphia by way of Annapolis (to attend the Constitutional Convention). Discusses a debt owed to him by Stuart. Washington desires payment in bills that will not cause delay, because he wants to use the money to pay a debt and buy some goods.
Background Information: Signer of the U.S. Constitution.
Full Transcript: Mount Vernon May 5th. 1787.
Dear Sir,
I have received your favor of the 30th and thank you for the ennumerations contained in it. They are all clear and self evid[...en]t and in some instances may be enlarged. Did you communicate the plan to Colonels Fitzgerald and Howe? And how far did you give either, or both, reason to believe they would be recommended to Mr. Jefferson? (to whom I shall write as soon as I get to Philada.) I wish to be fully informed of this that I may govern myself accordingly.
On Monday after an early dinner, or on Tuesday morning, I shall (my Rheumatic complaint having got better) commence my journey (I believe by the way of Annapolis) to Philadelphia. It would therefore suit me very well to receive the sum mentioned when you were here last, at that [2] place, and probably, as you are going to Richmond, it may be so ordered. Alexander Bills or Mr. Morris would answer well - doubtful Bills, or Bills which would be accompanied with delay, would by no means suit me, because the money would be applied #1 towards paying a debt there and 2d. in the purchase of some goods for the family, if I can get them cheap there.
If I can render you, or Mr. Stuart any services while there I shall be happy in the execution of your commands. With compliments & good wishes for the family
I am Dear Sir
Yr. Obed. & Affect. Ser.
G. Washington

[Docket]: This letter relates to some observations I had drawn up at the Genl's request respecting the fitness of the Potomac for the China trade - as a place of deposit for the fur trade.
David Stuart Esqr.
Abingdon
May 5 1787
See More
People: Washington, George, 1732-1799
Stuart, David, 1753-1811

Historical Era: The New Nation, 1783-1815
Subjects: PresidentMerchants and TradeCommerceFur TradeAsiaGlobal History and CivicsForeign AffairsUS Constitutional ConventionUS ConstitutionDebtFinance
Sub Era: Creating a New Government