Jefferson, Thomas (1743-1826) to Pierre C. L'Enfant
High-resolution images are available to schools and libraries via subscription to American History, 1493-1943. Check to see if your school or library already has a subscription. Or click here for more information. You may also order a pdf of the image from us here.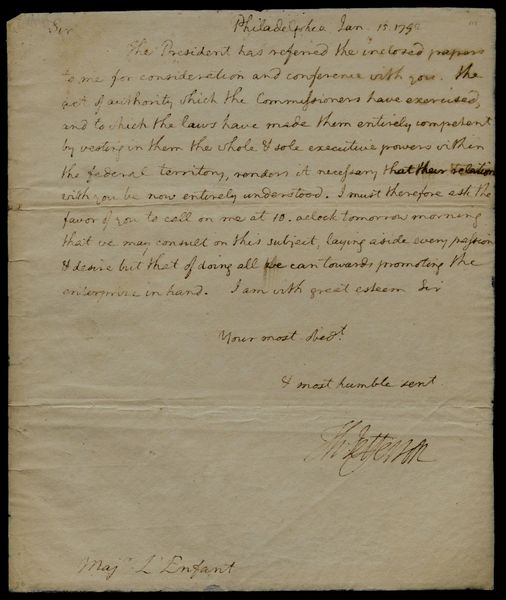 A high-resolution version of this object is available for registered users. LOG IN
Gilder Lehrman Collection #: GLC07669 Author/Creator: Jefferson, Thomas (1743-1826) Place Written: Philadelphia, Pennsylvania Type: Autograph letter signed Date: 15 January 1792 Pagination: 1 p. + docket 23.4 x 19.7 cm
Summary of Content: Requests a meeting to go over some papers Jefferson received from President Washington, so that the relationship between the commissioners superintending the building of Washington, D.C. and L'Enfant could be "entirely understood." L'Enfant designed the city of Washington. At the time of this meeting he was experiencing a falling out with the commissioners, and was dismissed from the project following month.
Background Information:
Full Transcript: Philadelphia. Jan. 15. 1792

The President has referred the inclosed [sic] papers to me for consideration and conference with you. The act of authority which the commissioners have exercised, and to which ...the laws have made them entirely competent by vesting in them the whole & sole executive powers within the federal territory, renders it necessary that their relation with you be now entirely understood. I must therefore ask the favor of you to call on me at 10.oclock tomorrow morning that we may consult on this subject, laying aside every passion & desire but that of doing all we can towards promoting the enterprise in hand. I am with great esteem Sir
Your most obedt.
& most humble sent
Th: Jefferson

Maj. L' Enfant
See More
People: Jefferson, Thomas, 1743-1826
L'Enfant, Pierre Charles, 1754-1825

Historical Era: The New Nation, 1783-1815
Subjects: PresidentWashington, D.C.ArchitectureConstructionGovernment and Civics
Sub Era: The Early Republic