Franklin, Benjamin (1706-1790) Necessity of an Equal Currency for All America
High-resolution images are available to schools and libraries via subscription to American History, 1493-1943. Check to see if your school or library already has a subscription. Or click here for more information. You may also order a pdf of the image from us here.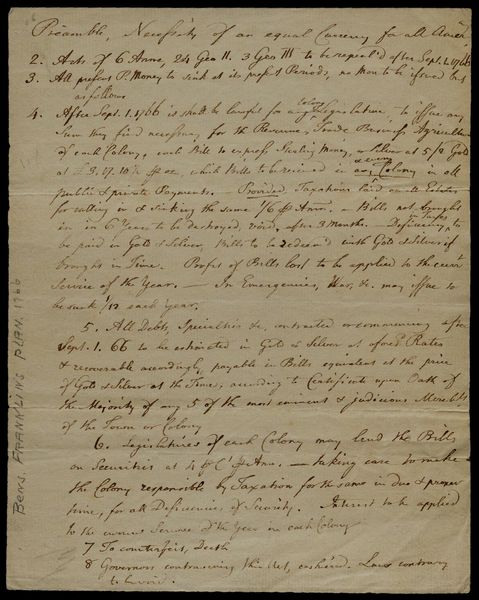 A high-resolution version of this object is available for registered users. LOG IN
Gilder Lehrman Collection #: GLC07829 Author/Creator: Franklin, Benjamin (1706-1790) Place Written: s.l. Type: Autograph manuscript Date: circa 31 March - 5 April 1766 Pagination: 1 p. ; 20.4 x 16.1 cm
Background Information: Signer of the U.S. Constitution.
Full Transcript: Preamble, Necessity of an equal Currency for all Amera.
2. Acts of 6 Anne, 24 Geo II. 3 Geo III to be repeal'd after Sept. 1. 1766
3. All present P. Money to sink at its present ...periods, no More to be issued but as follows
4. After Sept. 1. 1766 it shall be lawful for any [inserted: Colony] legislature, to issue any Sum they find necessary for the Revenues Trade Business Agriculture of each Colony. each Bill to express Sterling Money, or Silver at 5/2 Gold at £ 3. 17. 10 ½ P oz, which Bills to be received in any [inserted: & every] Colony in all public & private Payments. Provided, Taxation laid on all Estates for calling in & sinking the same 1/6 P Amn. - Bills not brought in in 6 Years to be destroyed, void, after 3 months. - Deficiency [inserted: in Taxes] to be paid in Gold & Silver, Bills to bee redeem'd with Gold & Silver if brought in Time. Profit of Bills lost to be applied to the currt Service of the Year. - In Emergencies, War, &c. may issue to be sunk 1/12 each year.
5. All Debts, Specialties &c, controlled or commencing after Sept. 1. 66 to be estimated in Gold & Silver at aforesd Rates & recoverable accordingly, payable in Bills equivalent at the price of Gold & Silver at the Time, according to Certificate upon Oath of the Majority of any of the most eminent & judicious Merchts. of the Town or Colony
6. Legislatures of each Colony may lend the Bills on Securities at 4 P Ct P Ann. - taking care to make the Colony responsible by Taxation for the same in due & proper time, for all Deficiencies of Security. Interest to be applied to the current Service of the Year in each Colony
7 To counterfeit, Death
8 Governors contravening this act, casher'ed. Laws contrary to be void.

[written on left hand margin]
BENS FRANKLIN'S PLAN. 1766
See More
People: Franklin, Benjamin, 1706-1790

Historical Era: American Revolution, 1763-1783
Subjects: Coins and CurrencyEconomicsAmerican Statesmen
Sub Era: Road to Revolution