Washington, George (1732-1799) to unknown
High-resolution images are available to schools and libraries via subscription to American History, 1493-1943. Check to see if your school or library already has a subscription. Or click here for more information. You may also order a pdf of the image from us here.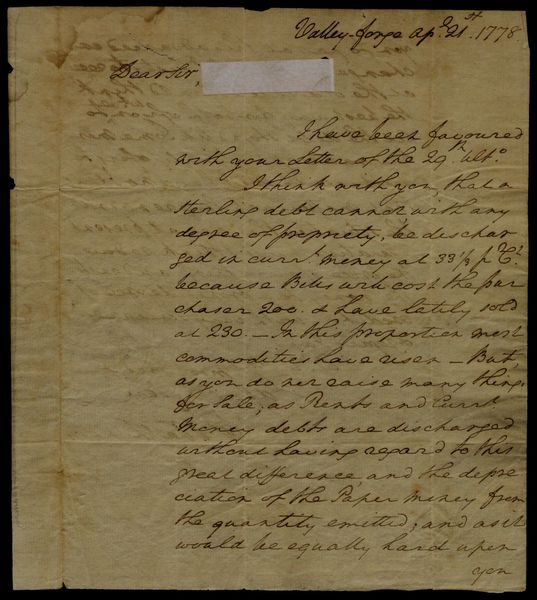 A high-resolution version of this object is available for registered users. LOG IN
Gilder Lehrman Collection #: GLC07878 Author/Creator: Washington, George (1732-1799) Place Written: Valley Forge, [Penn.] Type: Autograph letter signed Date: 21 April 1778 Pagination: 2 p. 23 x 20.4 cm
Washington, delays repaying a loan until the economy is more stable.
Signer of the U.S. Constitution.
Valley Forge Apl. 21st. 1778.
Dear Sir,
I have been favoured with your Letter of the 29th. uto.
I think with you, that a sterling debt cannot, with any degree of propriety, be discharged in currt. money at 33 1/3 p.Ct. because Bills will cost the purchaser 200 & have lately sold at 230.-- In this proportion most commodities have risen - But, as you do not raise many things for sale; as Rents and Currt. Money debts are discharged without having regard to this great difference, and the depreciation of the Paper Money from the quantity emitted; and as it would be equally hard upon [2] you to pay at this advanced exchange as upon Mr. Custis to receive at the old rate I should think the best way for both of you [inserted: wd. be] to let the debt stand till some more favorable opportunity offers to discharge it, as I have no idea that matters will long remain in the situation they are at present. Taxation must, I think reduce the price of every thing and restore the money to a proper degree of credit.-- with every sincere estm. & regard I am
Dr. Sir Yr. Most Obed. &
Affect. H. Servt.
G:o Washington