Jefferson, Thomas (1743-1826) to Various
High-resolution images are available to schools and libraries via subscription to American History, 1493-1943. Check to see if your school or library already has a subscription. Or click here for more information. You may also order a pdf of the image from us here.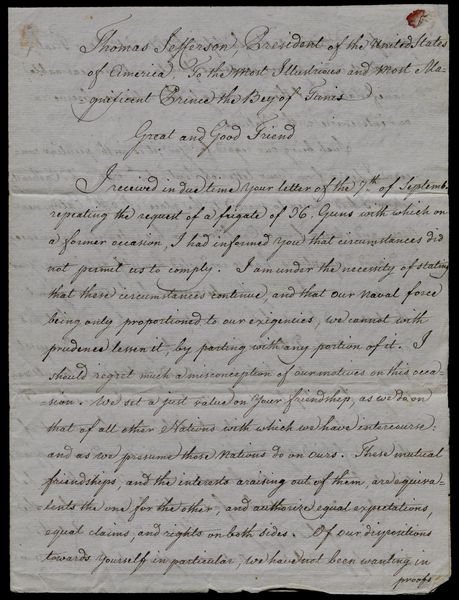 A high-resolution version of this object is available for registered users. LOG IN
Gilder Lehrman Collection #: GLC07903 Author/Creator: Jefferson, Thomas (1743-1826) Place Written: Various Type: Letter Date: Various Pagination: 3 items. Largest 25x19 cm.
Summary of Content: 1. 3 pgs + docket. 25x19 cm. 27 January 1804. re: negotiating with Barbary pirates. Jefferson promises that he holds the friendship of the Prince Bey of Tunis in high regard and does not intend to be misunderstood, but regrets to be forced to decline his request for a frigate of 30 guns to be used in the defence against pirates. 2. 3 pgs + docket. 23x19 cm. From United States Ship Constitution Off Tripoli. Marked on docket "Copy of my letter to Monsieur Beaussier." 12 June 1804. From Commodore Edward Preble to Monsieur Beaussier. Commodore Preble enlists Beaussier's help in forcing the Bashaw of Tripoli to allow stores and provisions for American prisoners to land on their shore, as well as set up peace terms agreeable to the American government. 3. 2 pgs. 24.5x11.5 cm. Sept 16th 1803. Marked "Duplicate" on first page. From Consular House. George Davis to Richard Morris Esq. Davis implores Morris to difuse a situation that has erupted after a hasty letter written by a Mr. Catheart to Hamuda Bashaw Bey of Tunis.
Background Information:
People: Prince Bey of Tunis
Jefferson, Thomas, 1743-1826

Historical Era: The New Nation, 1783-1815
Subjects: PresidentAfricaDiplomacyBarbary WarsBarbary PiratesBarbary CoastNavyMilitary HistoryPiratesUSS Constitution (Old Ironsides)Prisoner of WarPeace
Sub Era: The Age of Jefferson & Madison