Washington, George (1732-1799) [Presidential pardon of the ten ringleaders of the Whiskey Rebellion, who had been convicted of high treason]
High-resolution images are available to schools and libraries via subscription to American History, 1493-1943. Check to see if your school or library already has a subscription. Or click here for more information. You may also order a pdf of the image from us here.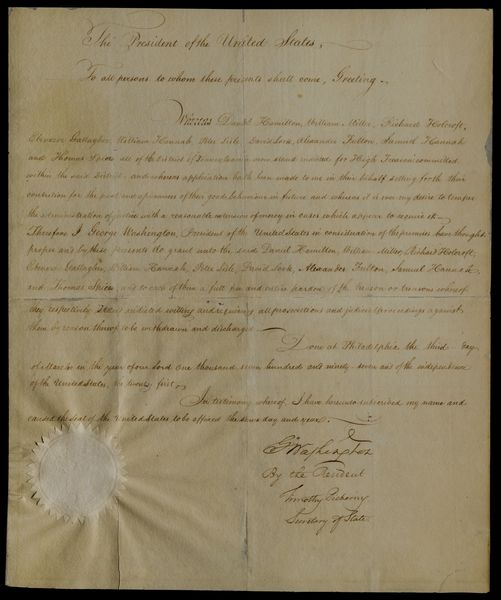 A high-resolution version of this object is available for registered users. LOG IN
Gilder Lehrman Collection #: GLC08072 Author/Creator: Washington, George (1732-1799) Place Written: Philadelphia, Pennsylvania Type: Manuscript document signed Date: 3 March 1797 Pagination: 1 p. ; 43 x 36.5 cm.
Countersigned by Timothy Pickering as Secretary of State. Pardons Daniel Hamilton, William Miller, Richard Holcroft, Ebenezer Gallagher, William Hannah, Peter Lisle, David Lock, Alexander Fulton, Samuel Hannah and Thomas Spiers. Includes the comment: "It is ever my desire to temper the administration of justice with a reasonable extension of mercy." This was one of Washington's last official acts as president. The pardon was signed on his final day in office. Has a large paper seal.
Signer of the U.S. Constitution.
Background: In 1794, Whiskey distillers in Western Pennsylvania were convicted of high-treason. These distillers were angered by new government-imposed excise taxes on whiskey. Their strong resistance tested the government's commitment to enforcing its laws. A militia force was dispatched to suppress the insurrection and the ringleaders, those stated above for pardoning, were rounded up.
The President of the United States
To all persons to whom these presents shall come, Greeting.
Whereas Daniel Hamilton, William Miller, Richard Holcroft, Ebenezer Gallagher, William Hannah, Peter Lisle, David Lock, Alexander Fulton, Samuel Hannah and Thomas Spiers, all of the District of Pennsylvania now stand indicted for High Treason committed within the said district: and whereas application hath been made to me in their behalf setting forth their contrition for the past and assurances of their good behavior in future and whereas it is ever my desire to temper the administration of justice with a reasonable extension of mercy in cases which appear to require it - Therefore I, George Washington, President of the United States in consideration of the premises have thought proper and by these presents do grant unto the said Daniel Hamilton, William Miller, Richard Holcroft, Ebenezer Gallagher, William Hannah, Peter Lisle, David Lock, Alexander Fulton, Samuel Hannah and Thomas Spiers, and to each of them a full free and entire pardon of the treason or treasons whereof they respectively stand indicted willing and requiring all prosecutions and judicial proceedings against them by reason thereof to be withdrawn and discharged. -
Done at Philadelphia the third day of March in the year of our Lord One thousand seven hundred and ninety-seven and of the independence of the United States, the twenty first. -
In testimony whereof, I hereunto subscribed my name and caused the sale of the United States to be affixed the same day and year. -
Go: Washington
By the President
Timothy Pickering
Secretary of State