Currier & Ives The Old Bull Dog on the Right Track
High-resolution images are available to schools and libraries via subscription to American History, 1493-1943. Check to see if your school or library already has a subscription. Or click here for more information. You may also request a pdf of the image from us here.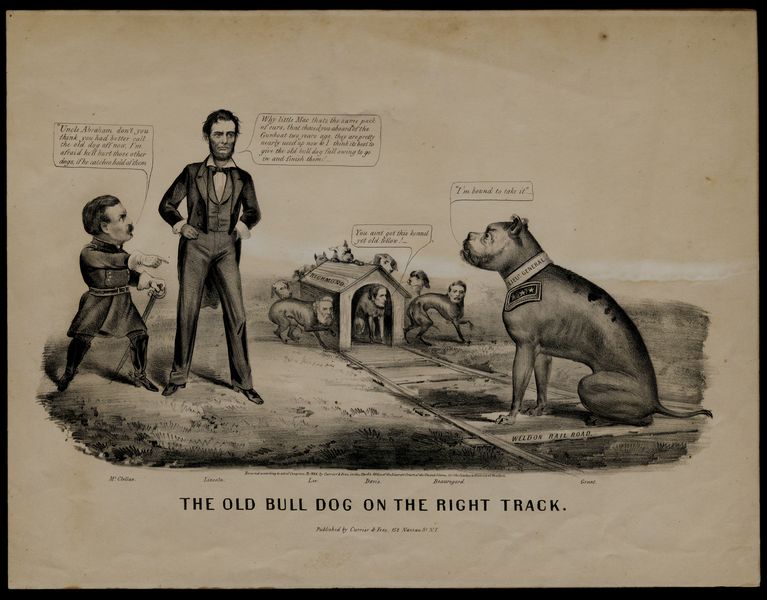 Gilder Lehrman Collection #: GLC08594 Author/Creator: Currier & Ives Place Written: New York, New York Type: Print Date: 1864 Pagination: 1 lithograph : b&w ; 34 x 44 cm.
A high-resolution version of this object is available for registered users. LOG IN or SUBSCRIBE
Summary of Content: Published by Currier & Ives at 152 Nassau Street in New York. Depicts a very short and hostile General George McClellan and a very tall and confident Abraham Lincoln, both candidates in the 1864 presidential election, on the left side of the picture. McClellan says: "Uncle Abraham don't you think you had better call the old dog off now, I'm afraid he'll hurt those other dogs, if he catches hold of them." Lincoln responds: "Why little Mac that's the same pack of curs, that you chased you aboard of the Gunboat two years ago, they are pretty nearly used up now ... " They are looking at a bull dog with a slight resemblance to General Ulysses Grant, staring down the Weldon Rail Road tracks, which run into a doghouse with the word "Richmond" on it. General Robert E. Lee, President Jefferson Davis, and General P.G.T. Beauregard stand guard at the doghouse. Grant says: "I'm bound to take it." Davis responds: "You ain't got this kennel yet old fellow!" Also includes a collateral file in the folder, from what appears to be the previous owner. Note written in green ink describes the political cartoon. The note says the cartoon was made in October 1864.
Background Information: Lincoln and McClellan were opponents in the presidential election of 1864.
People:
Historical Era: Civil War and Reconstruction, 1861-1877
Subjects: Civil WarMilitary HistoryPoliticsElectionUnion ForcesUnion GeneralConfederate States of AmericaConfederate General or LeaderPresident
Sub Era: The American Civil War