Jackson, Giles B., 1853-1924; to R. C. Burrow
High-resolution images are available to schools and libraries via subscription to American History, 1493-1943. Check to see if your school or library already has a subscription. Or click here for more information. You may also order a pdf of the image from us here.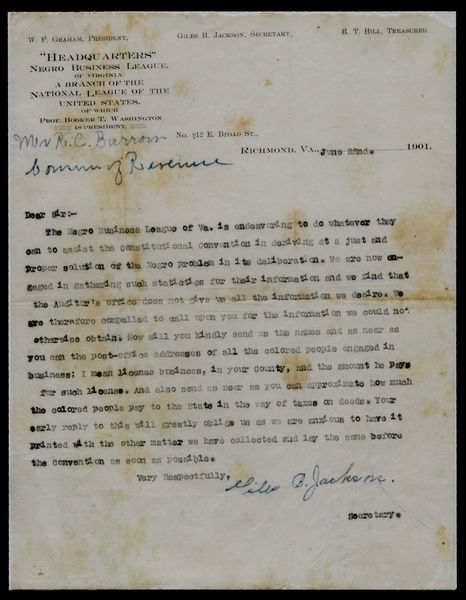 A high-resolution version of this object is available for registered users. LOG IN
Gilder Lehrman Collection #: GLC08907 Author/Creator: Jackson, Giles B., 1853-1924; Place Written: Richmond, Virginia Type: Typed letter signed Date: 22 June 1901 Pagination: 1 p. ; 28 x 21.5 cm.
Summary of Content: Seeks information for the Negro Business League's attempt to document African-Americans who meet Virginia's voting requirements. Explains that "The Negro Business League of Va. is endeavoring to...assist the constitutional convention in deriving at a just and proper solution of the Negro problem in its deliberation." Asks Burrow, the Commissioner of Revenue of Virginia, for the names and addresses of all black businessmen in Virginia, and approximately how much they pay to the state in taxes and deeds. Signed by Jackson as secretary of the Negro Business League. Typed on stationary of the Headquarters of the Negro Business League of Virginia.
Full Transcript: W.F. GRAHAM, PRESIDENT, GILES B. JACKSON, SECRETARY, R.T. HILL, TREASURER.

"HEADQUARTERS"
NEGRO BUSINESS LEAGUE,
OF VIRGINIA.
A BRANCH OF THE
NATIONAL LEAGUE OF THE
UNITED STATES,
OF WHICH
...PROF. BOOKER T. WASHINGTON
IS PRESIDENT.

Mr R.C. Burrow No. 812 E. Broad St.,
RICHMOND, VA,, __June 22nd. 1901.
Comm. of Revenue



Dear Sir: -
The Negro Business League of Va. is endeavoring to do whatever they can to assist the Constitutional Convention in deriving at a just and proper solution of the Negro problem in its deliberation. We are now engaged in gathering such statistics for their information and we find that the Auditor's office does not give us all the information we desire. We are therefore compelled to call upon you for the information we could not otherwise obtain. Now will you kindly send us the names and as near as you can the post-office addresses of all the colored people engaged in business; I mean license business, in your county, and the amount he Pays for such license. And also send as near as you can approximate how much the colored people pay to the state in the way of taxes on deeds. Your early reply to this will greatly oblige us as we are anxious to have it printed with the other matter we have collected and lay the same before the convention as soon as possible.
Very Respectfully,
Giles B. Jackson.
Secretary.See More
People: Jackson, Giles B., 1853-1924
Burrow, R. C., fl. 1901

Historical Era: Progressive Era to New Era, 1900-1929
Subjects: Progressive EraBlack AuthorSuffrageState ConstitutionJim CrowGovernment and CivicsTaxes or TaxationBusiness and FinanceFinanceAfrican American HistoryVoting Rights
Sub Era: The Politics of Reform