Williams, Henry (fl. 1834) to Arthur Waring
High-resolution images are available to schools and libraries via subscription to American History, 1493-1943. Check to see if your school or library already has a subscription. Or click here for more information. You may also order a pdf of the image from us here.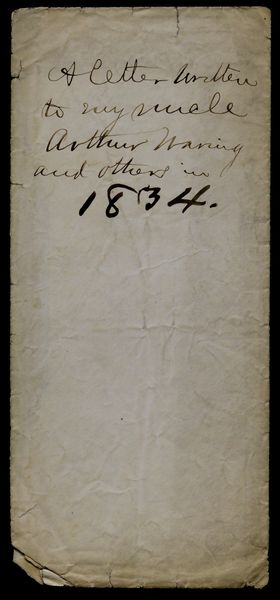 A high-resolution version of this object is available for registered users. LOG IN
Gilder Lehrman Collection #: GLC08947 Author/Creator: Williams, Henry (fl. 1834) Place Written: New York, New York Type: Autograph letter signed Date: 23 June 1834 Pagination: 4 p. : envelope ; 25 x 20 cm.
Summary of Content: An appeal by Williams, on behalf of "the Colourd Citizens of N.Y.," to "the good Colourd Citizens of Washington" for help "in the great and noble under taking to save our paper the Liberator." Explains that the paper is $1,000 in debt, which must be "raised by Coloured Citizens of the U.S. by the middle of July." Implores them to contribute. In a postscript, he asks for a response in a week. Also asks that the matter be kept quiet, because if the American Colonization Society finds out, they will rejoice and "on the 4 day of July blow a trumpet and thunder it from one end of the union to the other." Sent to Waring, along with Francis Datcher, John F. Cook, A. Price, D. Carroll, and others. A note on the address leaf indicates Waring and others raised $8.50. Another note, written over the address (to Francis Datcher and John F. Cook) expresses sorrow that their small numbers prevented them from doing more for William Lloyd Garrison and "the promotion of the man of color at home." Accompanied by an envelope with an autograph note by Waring's nephew indicating the letter was written to his uncle and others.
Background Information: A Henry Williams is listed on the 1840 U.S. Census under "Free Colored Persons" as living in Ward 13 of New York and between the ages of 36 and 55.
People: Williams, Henry, fl. 1834
Waring, Arthur, fl. 1834

Historical Era: National Expansion and Reform, 1815-1860
Subjects: Black AuthorAbolitionSlaveryAfrican American HistoryJournalismDebtColonization
Sub Era: Age of Jackson