Pennington, J.W.C. [Runaway slave]
High-resolution images are available to schools and libraries via subscription to American History, 1493-1943. Check to see if your school or library already has a subscription. Or click here for more information. You may also order a pdf of the image from us here.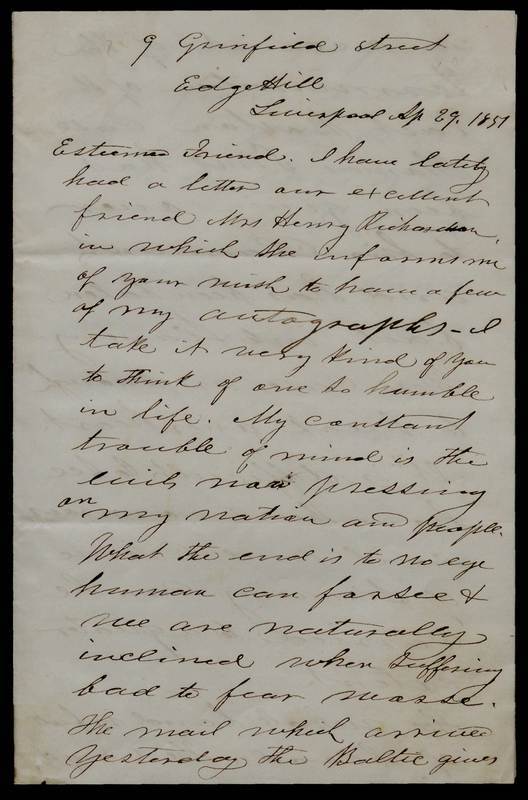 A high-resolution version of this object is available for registered users. LOG IN
Gilder Lehrman Collection #: GLC09088 Author/Creator: Pennington, J.W.C. Place Written: s.l. Type: Autograph letter signed Date: 29 April 1851 Pagination: 3 p.
Summary of Content: A runaway slave in his own right, Pennington, while avoiding arrest in Liverpool, England, comments on the situation here in American and a fugitive slave case: "...My constant trouble of mind is the evils now pressing on my nation and people. What the end is to no eye human can forsee...[O]f the termination of the last Boston case - Thomas Sims has been given over to his claimant and has been taken back into Slavery. These cases are enough to break one's heart. It is difficult to see how the enormous evil and crime of Slavery can be carried to a greater extent. The whole land is full of blood...'Lord give us help from trouble'."
Background Information: Born a slave, James William Charles Pennington (1809-71) was a blacksmith until he ran away to Pennsylvania in his early twenties. After spending several months studying under a Quaker teacher ...who took him in, Pennington moved to New York City, where he continued his education. Eventually, he studied theology and became a pastor. Pennington kept his status as a runaway slave secret until the late 1840s when he published his autobiography, The Fugitive Blacksmith. In 1850, he went to Europe until Scottish friends purchased his freedom the following year. From 1847 through 1855, Pennington served as pastor of Shiloh Presbyterian Church, one of the most respected African-American Presbyterian congregations in the United States. In addition to his involvement in the American Anti-Slavery Society, which he helped found in 1833, Pennington was an advocate of African-American abolitionist and religious organizations. An evangelical Christian, Pennington tied his work as an abolitionist to his Christian commitment. He also founded the Union Missionary Society, which later became the American Missionary Association. Pennington performed the marriage ceremony of Frederick Douglass and Anna Murray after Douglass's escape from slavery in 1838.See More
Full Transcript: 9 Greenfield Street
Edge Hill
Liverpool Ap 29, 1851

Esteemed Friend, I have lately had a letter our excellent friend Mrs Henry Richardson, in which she informs me of your wish to have ...a few of my autographs- I take it very kind of you to think of one so humble in life. My constant trouble of mind is the evils now pressing on my nation and people. What the end is to no eye human can foresee & we are naturally inclined when suffering bad to fear worse. The mail which arrived yesterday the Baltic gives [2] an account of the termination of the last Boston case- Thomas Sims has been given over to his Claimant and has been taken back into Slavery- These cases are enough to break one's heart- It is difficult to see how the enormous evil and crime of Slavery can be carried to a greater extent.
The whole land is full of blood. The cry of [3] the poor is going up from every part of the country into the ears of the Lord of Sabaath Will he not soon hear and answer; "Lord give us help from trouble"

Yours Truly
J.W.C. Pennington
See More
People:
Historical Era: National Expansion and Reform, 1815-1860
Subjects: SlaveryRunaway SlaveFugitive Slave ActAfrican American HistoryGlobal History and US Foreign PolicyEnslaved people
Sub Era: Slavery & Anti-slavery