Turner, J. Milton, 1840-1915. [Circular Letter re: Statement of support for the Nomination of Blanche Kelso Bruce as Vice President]
High-resolution images are available to schools and libraries via subscription to American History, 1493-1943. Check to see if your school or library already has a subscription. Or click here for more information. You may also order a pdf of the image from us here.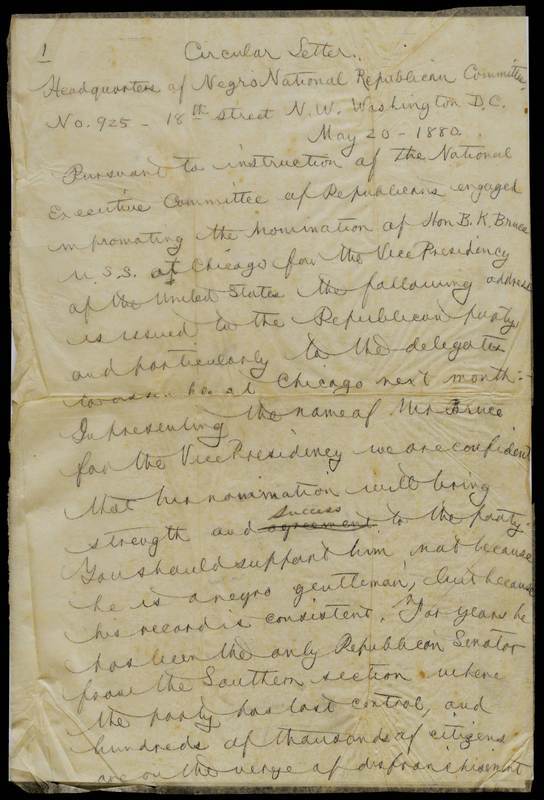 A high-resolution version of this object is available for registered users. LOG IN
Gilder Lehrman Collection #: GLC09400.133 Author/Creator: Turner, J. Milton, 1840-1915. Place Written: Washington D.C. Type: Autograph document signed Date: 20 May 1880 Pagination: 4 p. : docket : onionskin ; 36.3 x 24 cm.
Turner and Bell are addressing the Republican Party with the intention of putting forth Blanche Kelso Bruce as a nominee for the Vice Presidency of the United States at the upcoming Chicago Convention. The two then discuss his consistent record as a Republican Senator in the south an area that the Republicans have been losing control over, as well as the fact that the population in the south is becoming disenfranchised. The two bring up his loyalty to the Republican Party, as well as his responsible conduct as a Senator. The statement also mentions the numbers of republican voters in different states that would be bound to support such a decision. This includes "5,000,000 Americans whose loyalty was all the Nation had to depend on at the South." Title of this document was derived from the text of the document. There is also a separate docket written on an envelope.
Blanche Kelso Bruce was born into slavery near Farmville, Prince Edward County, Va. on March 1 1841. He was tutored by his master's son, but left his master at the beginning of the civil war and taught school in Hannibal Mo. After the civil war Bruce became a planter in Mississippi, and a member of the Mississippi Levee Board, and Sheriff and Tax Collector for Bolivar County from 1872-1875. Bruce was then elected as a Republican to the United States Senate, where he served from March 4 1875 - March 3 1881. Bruce was the first African American to serve a full term in the U.S. Senate. In 1881 Bruce was appointed by President James Garfield as the Register of the Treasury. Bruce then went on to serve as the Recorder of Deeds for the District of Colombia from 1891-1893, returning to the office of Register of the Treasury from 1897 until his death on March 17, 1898.