Weiner, Sylvia (1912-2008) to Morris "Moe" Weiner
High-resolution images are available to schools and libraries via subscription to American History, 1493-1943. Check to see if your school or library already has a subscription. Or click here for more information. You may also order a pdf of the image from us here.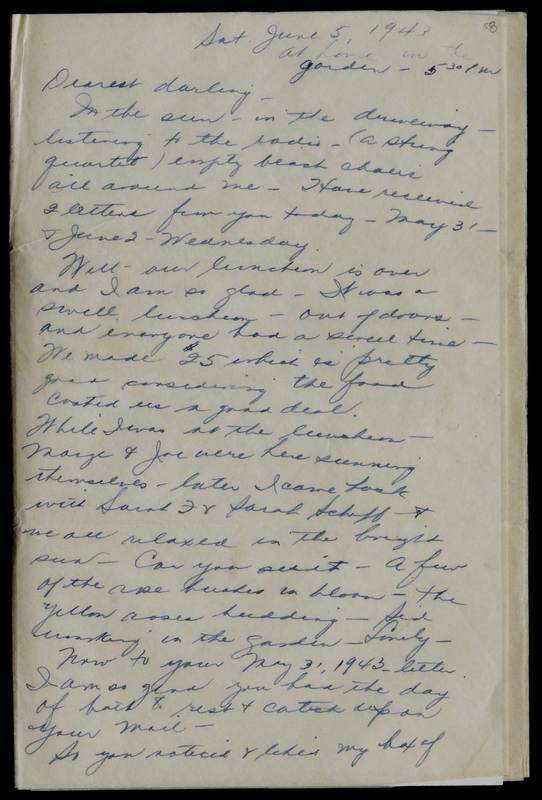 A high-resolution version of this object is available for registered users. LOG IN
Gilder Lehrman Collection #: GLC09414.0058 Author/Creator: Weiner, Sylvia (1912-2008) Place Written: [Brooklyn, New York] Type: Autograph letter signed Date: 5 June 1943 Pagination: 8 p. ; 21.8 x 14 cm.
Summary of Content: Sylvia says the fund raising luncheon is over and was a success. Talks about the dissolution of the 3rd International. Tells him about her financial situation. The luncheon made $25 dollars, which is good since her office paid a considerable amount for the food. She explains that her and Mad (sister) made an arrangement to share responsibility in proportions to income. She reassures Moe that she will not starve and neither will their guests.
Background Information: United States. Congress. House. Special Committee on Un-American Activities (1938-1944) [Dies Committee]
Dies, Martin, 1900-1972 Texas Congressman, First Chairman of the Dies Committee later the House UnAmerican Activities Committee (HUAC)
...PM was a leftist daily newspaper published in New York City from June 1940 to June 1948; financed by Chicago millionaire Marshall Field III.
Field, Marshall, 1893-1956
The Third International or Comintern was set up in 1919. Before it was dissolved in May 1943, the Third International was composed of representatives of communist parties, in over 50 countries.
Federal payroll tax withholding began in 1943. See More
People: Weiner, Morris "Moe" (1909-1988)
Weiner, Sylvia (1912-2008)
Dies, Martin, 1900-1972
Field, Marshall, 1893-1956

Historical Era: Great Depression and World War II, 1929-1945
Subjects: MarriageSoldier's LetterWorld War IIWomen's HistoryMilitary HistoryWoman AuthorSoldier's PayFinanceDiet and nutritionRationingCongressGovernment and CivicsTaxes or TaxationCommunism
Sub Era: World War II