A proclamation on the suspension of habeas corpus, 1862
A primary source by Abraham Lincoln
View this item in the Collection.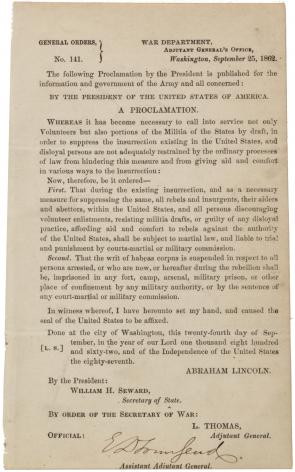 The doctrine of habeas corpus is the right of any person under arrest to appear in person before the court, to ensure that they have not been falsely accused. The US Constitution specifically protects this right in Article I, Section 9: "The privilege of the writ of habeas corpus shall not be suspended, unless when in cases of rebellion or invasion the public safety may require it." Lincoln initially suspended habeas corpus in the volatile border state of Maryland in 1861 in order to try large numbers of civilian rioters in military courts and to prevent the movement of Confederate troops on Washington. The order was eventually extended in response to different threats. In the summer of 1862, President Lincoln had called up the state militias, leading to increased opposition to the Civil War within the Union. By General Orders No. 141, September 25, 1862, Lincoln subjected protestors to martial law and the suspension of habeas corpus.
The suspension of habeas corpus was one of Lincoln's most controversial decisions. In the spring of 1863, General Ambrose Burnside arrested Peace Democrat Clement Vallandigham, who had been critical of the US government, and banned publication of the Chicago Times, which was supportive of Vallandigham. Burnside's actions drew widespread criticism, to which Lincoln responded by reducing Vallandigham's sentence and revoking Burnside's order suppressing the Times. Lincoln defended himself against charges that his administration had subverted the Constitution, however, arguing that acts that might be illegal in peace time might be necessary "in cases of rebellion," when the nation's survival was at stake.
Questions for Discussion
You are seeing this page because you are not currently logged into our website. If you would like to access this page and you are not logged in, please login or register for a gilderlehrman.org account, and then visit the link that brought you to this notice. Thanks!
Metadata
Make Gilder Lehrman your Home for History
---
Already have an account?
Please click here to login and access this page.
How to subscribe
Click here to get a free subscription if you are a K-12 educator or student, and here for more information on the Affiliate School Program, which provides even more benefits.
Otherwise, click here for information on a paid subscription for those who are not K-12 educators or students.
Make Gilder Lehrman your Home for History
---
Become an Affiliate School to have free access to the Gilder Lehrman site and all its features.
Click here to start your Affiliate School application today! You will have free access while your application is being processed.
Individual K-12 educators and students can also get a free subscription to the site by making a site account with a school-affiliated email address. Click here to do so now!
Make Gilder Lehrman your Home for History
---
Why Gilder Lehrman?
Your subscription grants you access to archives of rare historical documents, lectures by top historians, and a wealth of original historical material, while also helping to support history education in schools nationwide. Click here to see the kinds of historical resources to which you'll have access and here to read more about the Institute's educational programs.
Individual subscription: $25
Click here to sign up for an individual subscription to the Gilder Lehrman site.
Make Gilder Lehrman your Home for History
---
Upgrade your Account
We're sorry, but it looks as though you do not have access to the full Gilder Lehrman site.
All K-12 educators receive free subscriptions to the Gilder Lehrman site, and our Affiliate School members gain even more benefits!