Two versions of the Preamble to the Constitution, 1787
A primary source by Constitutional Convention
View this item in the Collection.
On May 25, 1787, the fifty-five delegates to the Constitutional Convention began meeting in a room, no bigger than a large schoolroom, in Philadelphia's State House. They posted sentries at the doors and windows to keep their "secrets from flying out." They barred the press and public, and took a vow not to reveal to anyone the words spoken there. There were speeches of two, three, and four hours. The convention, which lasted four months, took only a single eleven-day break.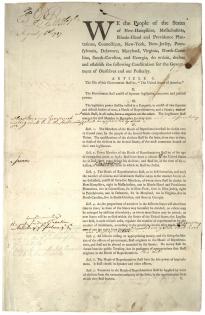 First draft of the United States Constitution, with notes by Pierce Butler, August 6, 1787
This copy of the draft of the Constitution was printed secretly for the delegates in August 1787. In order to make it easier for them to take notes it was printed with wide margins. Delegate Pierce Butler, one of the wealthiest slaveholders from South Carolina, owned and marked up this copy.
A full transcript of Butler's copy of the first draft is available.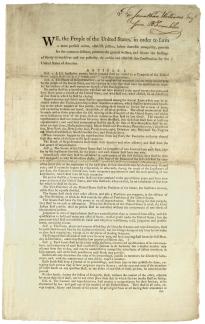 First printing of the official United States Constitution, for members of the Constitutional Convention, inscribed by Benjamin Franklin to Jonathan Williams, September 17, 1787
The first official printed version of the Constitution was distributed to the delegates, among whom Benjamin Franklin, aged 81, was the senior member.
The preamble of the working draft and the final version differ significantly. In the August 6 preamble, delegates described themselves as representatives of "the States of New-Hampshire, Massachusetts, Rhode-Island," etc. The final version, beginning "We the People of the United States," shows that in the six weeks between the writing of the draft and of the final version, the idea of a united nation had been born. A single nation with a unified government had replaced an earlier vision of a confederation of states.
Questions for Discussion
You are seeing this page because you are not currently logged into our website. If you would like to access this page and you are not logged in, please login or register for a gilderlehrman.org account, and then visit the link that brought you to this notice. Thanks!
Metadata
Make Gilder Lehrman your Home for History
---
Already have an account?
Please click here to login and access this page.
How to subscribe
Click here to get a free subscription if you are a K-12 educator or student, and here for more information on the Affiliate School Program, which provides even more benefits.
Otherwise, click here for information on a paid subscription for those who are not K-12 educators or students.
Make Gilder Lehrman your Home for History
---
Become an Affiliate School to have free access to the Gilder Lehrman site and all its features.
Click here to start your Affiliate School application today! You will have free access while your application is being processed.
Individual K-12 educators and students can also get a free subscription to the site by making a site account with a school-affiliated email address. Click here to do so now!
Make Gilder Lehrman your Home for History
---
Why Gilder Lehrman?
Your subscription grants you access to archives of rare historical documents, lectures by top historians, and a wealth of original historical material, while also helping to support history education in schools nationwide. Click here to see the kinds of historical resources to which you'll have access and here to read more about the Institute's educational programs.
Individual subscription: $25
Click here to sign up for an individual subscription to the Gilder Lehrman site.
Make Gilder Lehrman your Home for History
---
Upgrade your Account
We're sorry, but it looks as though you do not have access to the full Gilder Lehrman site.
All K-12 educators receive free subscriptions to the Gilder Lehrman site, and our Affiliate School members gain even more benefits!