Indian Wars: The Battle of Washita, 1868
A primary source by George Custer
View this item in the Collection.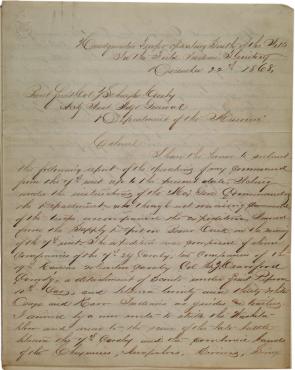 The Battle of Washita on November 27, 1868, pitted US Army troops commanded by General George Custer against the Southern Cheyenne. An excerpt from Custer's report on a return to the battlefield ten days later is presented here. The Cheyenne at Black Kettle's village were slaughtered, and the casualties on both sides were gruesome—men stabbed through with shotgun barrels, Cheyenne women and children clubbed to death. Custer described the "stark, stiff, naked and horribly mutilated bodies of our dead Comrades," and claimed that "Squaws and Children . . . had been slain in the excitement and confusion of the first charge." The Indan Wars on the plains would continue until the 1890s.
Excerpt
I proceeded to the battle field, early on the morning of the 11th. Indians had evidently paid a hurried visit to the scene of the late Conflict. The bodies of nearly all the warriors killed in the [struck: late] fight had been concealed or removed while those of the Squaws and Children, who had been slain in the excitement and confusion of the first charge as well as in self defense were wrapped in Blankets and bound with [lariats] preparatory to removal and burial. Many of the Indian dogs were still found in the vicinity lately occupied by the lodges of their owners; they probably [3] subsisting on the bodies of the ponies that had been killed and then covered several acres of ground near by. As ten days had then elapsed since the battle and scores of Indian bodies still remained unburied or unconcealed some idea may be had of the precipitate haste - with which the Indians abandoned that section of country. A thorough examination of the immediate battle ground failed to discover any thing worthy of special report, except that Indian bodies were found which had [inserted: not] previously been reported in my first dispatch, and which went to prove, what we are all aware of now, that the enemy's loss in killed warriors far exceeded the numbers (103) one hundred and three) first reported by me.
A full transcript is available.
Questions for Discussion
You are seeing this page because you are not currently logged into our website. If you would like to access this page and you are not logged in, please login or register for a gilderlehrman.org account, and then visit the link that brought you to this notice. Thanks!
Metadata
Make Gilder Lehrman your Home for History
---
Already have an account?
Please click here to login and access this page.
How to subscribe
Click here to get a free subscription if you are a K-12 educator or student, and here for more information on the Affiliate School Program, which provides even more benefits.
Otherwise, click here for information on a paid subscription for those who are not K-12 educators or students.
Make Gilder Lehrman your Home for History
---
Become an Affiliate School to have free access to the Gilder Lehrman site and all its features.
Click here to start your Affiliate School application today! You will have free access while your application is being processed.
Individual K-12 educators and students can also get a free subscription to the site by making a site account with a school-affiliated email address. Click here to do so now!
Make Gilder Lehrman your Home for History
---
Why Gilder Lehrman?
Your subscription grants you access to archives of rare historical documents, lectures by top historians, and a wealth of original historical material, while also helping to support history education in schools nationwide. Click here to see the kinds of historical resources to which you'll have access and here to read more about the Institute's educational programs.
Individual subscription: $25
Click here to sign up for an individual subscription to the Gilder Lehrman site.
Make Gilder Lehrman your Home for History
---
Upgrade your Account
We're sorry, but it looks as though you do not have access to the full Gilder Lehrman site.
All K-12 educators receive free subscriptions to the Gilder Lehrman site, and our Affiliate School members gain even more benefits!