A British view of rebellious Boston, 1774
A primary source by Philip Dawe
View this item in the Collection.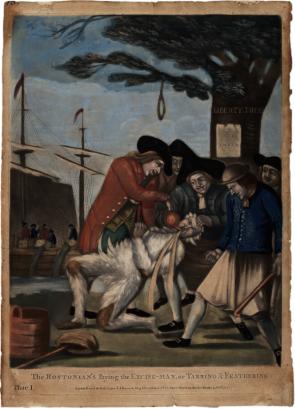 In the years leading up to the American Revolution, both the British and the colonists used broadsides to influence public opinion. This broadside, "The Bostonian's Paying the Excise-man, or Tarring & Feathering," printed in London in 1774, is a British depiction of the Bostonians' treatment of a British customs officer, John Malcom.
In Boston in January 1774, John Malcom argued with Bostonian George Hewes over Malcom's rough treatment of a boy in the street. Malcom struck Hewes with his cane and fled the scene. Word of the assault spread, and Bostonians congregated at Malcom's home, eventually dragging him outside. He was thrown into a cart and driven through the city streets. The crowd had Malcom stripped and covered first with tar and then feathers, giving him a "modern jacket." The riotous parade continued through the city, stopping periodically to demand Malcom renounce British authority, which he refused to do. The mob drove on past the Liberty Tree, where they threatened to hang Malcom. They put a rope around his neck, tied him to the gallows, and beat him with clubs. Malcom, severely injured, was eventually driven back to his home and unceremoniously rolled off the cart.
In this depiction of the events, the artist portrays the Bostonians with menacing faces, violently pouring tea down Malcom's throat. Items representing events from the daylong assault are compressed into one scene, including the tar and feathers, a club, and a noose hanging from the Liberty Tree. The Boston Tea Party, which occurred a month before the attack on Malcom, appears in the background, linking the two events for the British audience. The Stamp Act is also depicted upside down on the Liberty Tree, serving as a reminder of the Stamp Act protests of 1765.
A pdf of the broadside is available here.
Questions for Discussion
You are seeing this page because you are not currently logged into our website. If you would like to access this page and you are not logged in, please login or register for a gilderlehrman.org account, and then visit the link that brought you to this notice. Thanks!
Metadata
Make Gilder Lehrman your Home for History
---
Already have an account?
Please click here to login and access this page.
How to subscribe
Click here to get a free subscription if you are a K-12 educator or student, and here for more information on the Affiliate School Program, which provides even more benefits.
Otherwise, click here for information on a paid subscription for those who are not K-12 educators or students.
Make Gilder Lehrman your Home for History
---
Become an Affiliate School to have free access to the Gilder Lehrman site and all its features.
Click here to start your Affiliate School application today! You will have free access while your application is being processed.
Individual K-12 educators and students can also get a free subscription to the site by making a site account with a school-affiliated email address. Click here to do so now!
Make Gilder Lehrman your Home for History
---
Why Gilder Lehrman?
Your subscription grants you access to archives of rare historical documents, lectures by top historians, and a wealth of original historical material, while also helping to support history education in schools nationwide. Click here to see the kinds of historical resources to which you'll have access and here to read more about the Institute's educational programs.
Individual subscription: $25
Click here to sign up for an individual subscription to the Gilder Lehrman site.
Make Gilder Lehrman your Home for History
---
Upgrade your Account
We're sorry, but it looks as though you do not have access to the full Gilder Lehrman site.
All K-12 educators receive free subscriptions to the Gilder Lehrman site, and our Affiliate School members gain even more benefits!