Frederick Douglass on the disfranchisement of Black voters, 1888
A Spotlight on a Primary Source by Frederick Douglass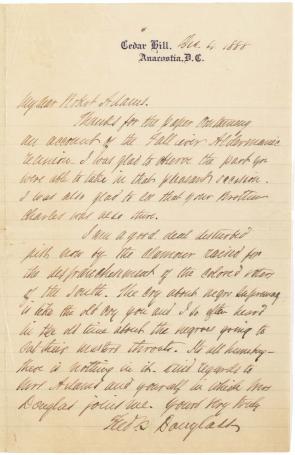 Frederick Douglass, a former enslaved man and premier champion of civil rights for African Americans and women, was the nineteenth century's most famous Black leader. In this letter, written in December 1888, he protests the disfranchisement of Black southern voters following Reconstruction. Douglass wrote that he was "a good deal disturbed just now by the clamour raised for the disfranchisement of the colored voters of the South." He compares the disfranchisement argument that Black suffrage would encourage "negro supremacy" to "the old cry you and I so often heard in the old time about the negroes going to cut their masters throats." The argument was "all humbug," Douglass wrote, "There is nothing in it."
A full transcript is available.
Transcript
Dec. 4 1888
My dear Robert Adams.
Thanks for the paper containing an account of the Fall [R]iver Aldermanic Reunion. I was glad to observe the part you were able to take in that pleasant occasion. I was also glad to see that your Brother Charles was also there.
I am a good deal disturbed just now by the clamour raised for the disfranchisement of the colored voters of the South. The cry about negro supremacy is like the old cry you and I so often heard in the old time about the negroes going to cut their masters throats. Its all humbug – There is nothing in it. Kind regards to Mrs Adams and yourself in which Mrs Douglas joins me. Yours very truly
Fredk Douglass