The Map Proves It, ca. 1919
Supporters of women's rights used maps such as the one shown here to demonstrate where women were allowed to vote, when they won that right, and which elections they could vote in. The source of this map is unknown. Originally printed around 1914, it was altered over a period of five years to reflect the ratification of the Nineteenth Amendment in various states through mid 1919.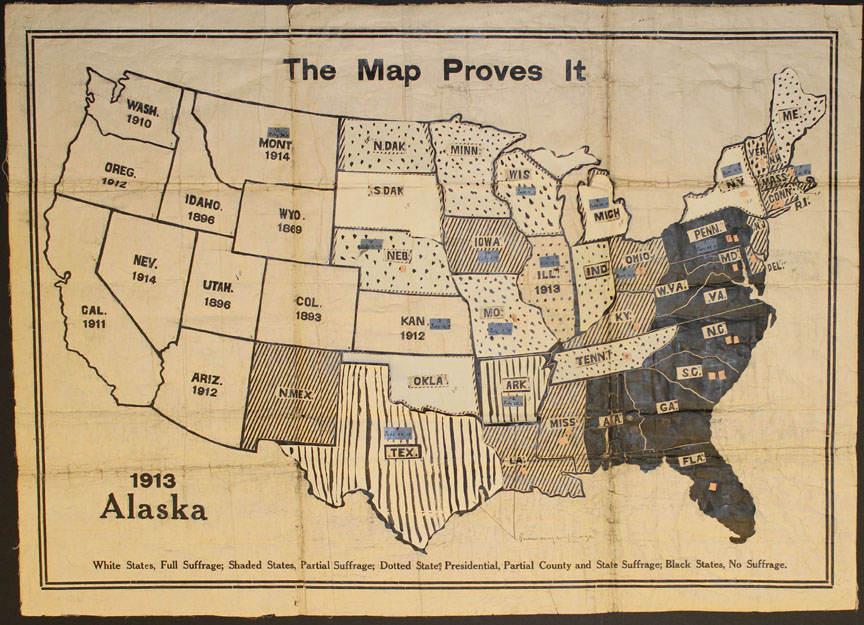 Each state is marked in patterns representing the status of women's suffrage.
White represents full suffrage.
Stripes represent partial suffrage.
Dots represent presidential, partial county, and state suffrage.
Black represents no suffrage.
In several states, such as Arkansas, North Dakota, and Indiana, pieces of paper were marked by hand and added to the map to represent changes in suffrage.
This map has many customized markings added, including numbers in the corners of states, small pink squares, and "1P" and "2P" notations. We do not know what all the additions mean.
Small blue pieces of paper record the dates that women could first vote in a state or territory. They also record the order in which the states ratified the Nineteenth Amendment. Illinois first ratified the amendment on June 10, 1919, but because of a miswording in the bill's introduction, the amendment was reaffirmed on June 17, 1919. The US secretary of state recognized Illinois as the first state to ratify the Nineteenth Amendment based on the first date.
As the map illustrates, women who lived in the western part of the United States could vote long before their eastern counterparts. Wyoming, Utah, Washington, Montana, and Alaska were all still territories when women obtained full suffrage.
The chart below incorporates information from the map and from historical records.
Ratification of the Nineteenth Amendment by State
State/
Territory

Date of Ratification

Date women could vote

Official order of ratification

Order of ratification listed on the map

Illinois

June 10, 1919

June 17, 1919

1

6

Wisconsin

June 10, 1919

June 19, 1919

2

1

Michigan

June 10, 1919

June 10, 1919

3

2

Kansas

June 16, 1919

June 16, 1919

4

3

Ohio

June 16, 1919

June 16, 1919

5

4

New York

June 16, 1919

June 16, 1919

6

5

Pennsylvania

June 24, 1919

June 24, 1919

7

7

Massachusetts

June 25, 1919

June 25, 1919

8

8

Texas

June 28, 1919

June 28, 1919

9

9

Iowa

July 2, 1919

July 2, 1919

10

10

Missouri

July 3, 1919

July 3, 1919

11

11

Arkansas

July 28, 1919

July 28, 1919

12

12

Montana

August 2, 1919

July 30, 1919

13

13

Nebraska

August 2, 1919

August 2, 1919

14

14

Minnesota

September 8, 1919

Not labeled

15

Not labeled

New Hampshire

September 10, 1919

September 10, 1919

16

Not labeled

Utah

September 30, 1919

1896

17

Not labeled

California

November 1, 1919

1911

18

Not labeled

Maine

November 5, 1919

Not labeled

19

Not labeled

North Dakota

December 1, 1919

Not labeled

20

Not labeled

South Dakota

December 4, 1919

Not labeled

21

Not labeled

Colorado

December 15, 1919

1893

22

Not labeled

Kentucky

January 6, 1920

Not labeled

23

Not labeled

Rhode Island

January 6, 1920

Not labeled

24

Not labeled

Oregon

January 13, 1920

1912

25

Not labeled

Indiana

January 16, 1920`

Not labeled

26

Not labeled

Wyoming

January 27, 1920

1869

27

Not labeled

Nevada

February 7, 1920

1914

28

Not labeled

New Jersey

February 9, 1920

Not labeled

29

Not labeled

Idaho

February 11, 1920

1896

30

Not labeled

Arizona

February 12, 1920

1912

31

Not labeled

New Mexico

February 21, 1920

Not labeled

32

Not labeled

Oklahoma

February 28, 1920

Not labeled

33

Not labeled

West Virginia

March 10, 1920 (Confirmed on September 21, 1920)

Not labeled

34

Not labeled

Washington

March 22, 1920

Not labeled

35

Not labeled

Tennessee

August 18, 1920

Not labeled

36

Not labeled

Connecticut

September 14, 1920 (Reaffirmed on September 21, 1920)

Not labeled

37

Not labeled

Vermont

February 8, 1921

Not labeled

38

Not labeled

Delaware

March 6, 1923

Not labeled

39

Not labeled

Maryland

March 29, 1941

Not labeled

40

Not labeled

Virginia

February 21, 1952

Not labeled

41

Not labeled

Alabama

September 8, 1953

Not labeled

42

Not labeled

Florida

May 13, 1969

Not labeled

43

Not labeled

South Carolina

July 1, 1969

Not labeled

44

Not labeled

Georgia

February 20, 1970

Not labeled

45

Not labeled

Louisiana

June 11, 1970

Not labeled

46

Not labeled

North Carolina

May 6, 1971

Not labeled

47

Not labeled

Mississippi

March 22, 1984

Not labeled

48

Not labeled

Alaska

1913 (only applied to white women)

Not labeled

49

Not labeled

Hawaii

US Territory - received suffrage on August 18, 1920 when the Nineteenth Amendment was ratified

Not labeled

50

Not labeled