The cost of living in New York City in 1787
Posted by Sandra Trenholm on Wednesday, 08/13/2014
The Henry Knox Papers in the Gilder Lehrman Collection contain more than 10,000 documents dating from 1750 to 1820. The bulk of the archive chronicles the American Revolution and early founding era. The depth and complexity of the Knox Papers have made it a favorite with the curatorial staff. One particularly interesting document from this archive is the Knox family's living expenses in New York and when Henry served as secretary of war under the Articles of Confederation. It includes all the budget basics that we have today: rent, taxes, transportation, clothes, heat, school cost, household goods, etc. It is an interesting snapshot of life in the late eighteenth century. We also see that Knox's salary of £980 pounds was not enough to meet his expenses of £1304.16. In today's currency, Knox earned £108,700 a year, but spent an average of £144,700.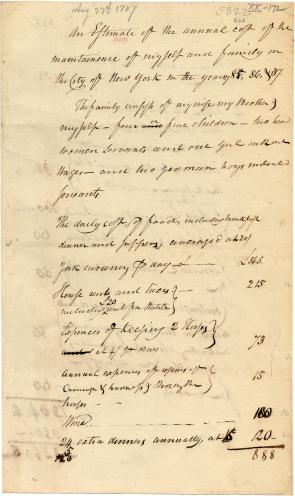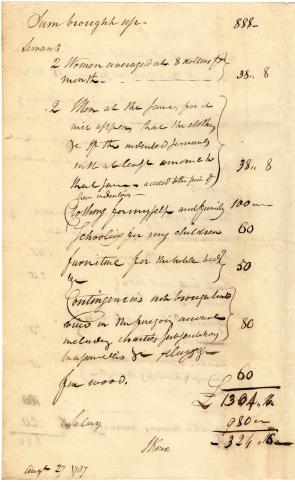 Transcript
An Estimate of the annual cost of the maintainence of myself and family in the City of New York in the years 85, 86 & 87.
The family consists of my wife my Brother & myself – four or five children- two hired women servants and one girl without wages- and two german boys indented servants.
| | |
| --- | --- |
| The daily cost of food, including breakfast dinner and supper, averaged at 20/York currency pr day  | £365 |
| House rent and taxes including £20 rent for Stable | 215 |
| Expences of keeping 2 Horses at 4/pr day | 73 |
| Annual expences of repair of Carriage & harness & shoeing the horses | 15 |
| Wine | 100 |
| 24 extra dinners annually at | 120 |
|   | 888 |
|   |   |
| [Page 2] Sum brought up | 888 |
| Servants |   |
| 2 Women averaged at 8 dollars [pr] month | 38.8 |
| 2 Men at the same, for it will appear, that the clothes &c of the indented servants will at least amount to that sum added to the price of their indentures | 38.8 |
| Clothing for myself and family | 100 |
| Schooling for my children | 60 |
| Furniture for the table bed &c | 60 |
| Contingencies not brought into view in the foregoing account including charties [sic] subscribing in assemblies &c  plays &c | 80 |
| Fire wood | 60 |
|   | £1304.16 |
| Salary | 980 |
|   | -324.16 |
H Knox
Augt 27 1787