Morgan DeMartis and Cassidy Hooker Move into New Roles at the Gilder Lehrman Insitute
Posted by Gilder Lehrman Staff on Friday, 08/02/2019
Looking to the Future from the Front Lines of GLI:
What's on the Horizon for Cassidy Hooker and Morgan DeMartis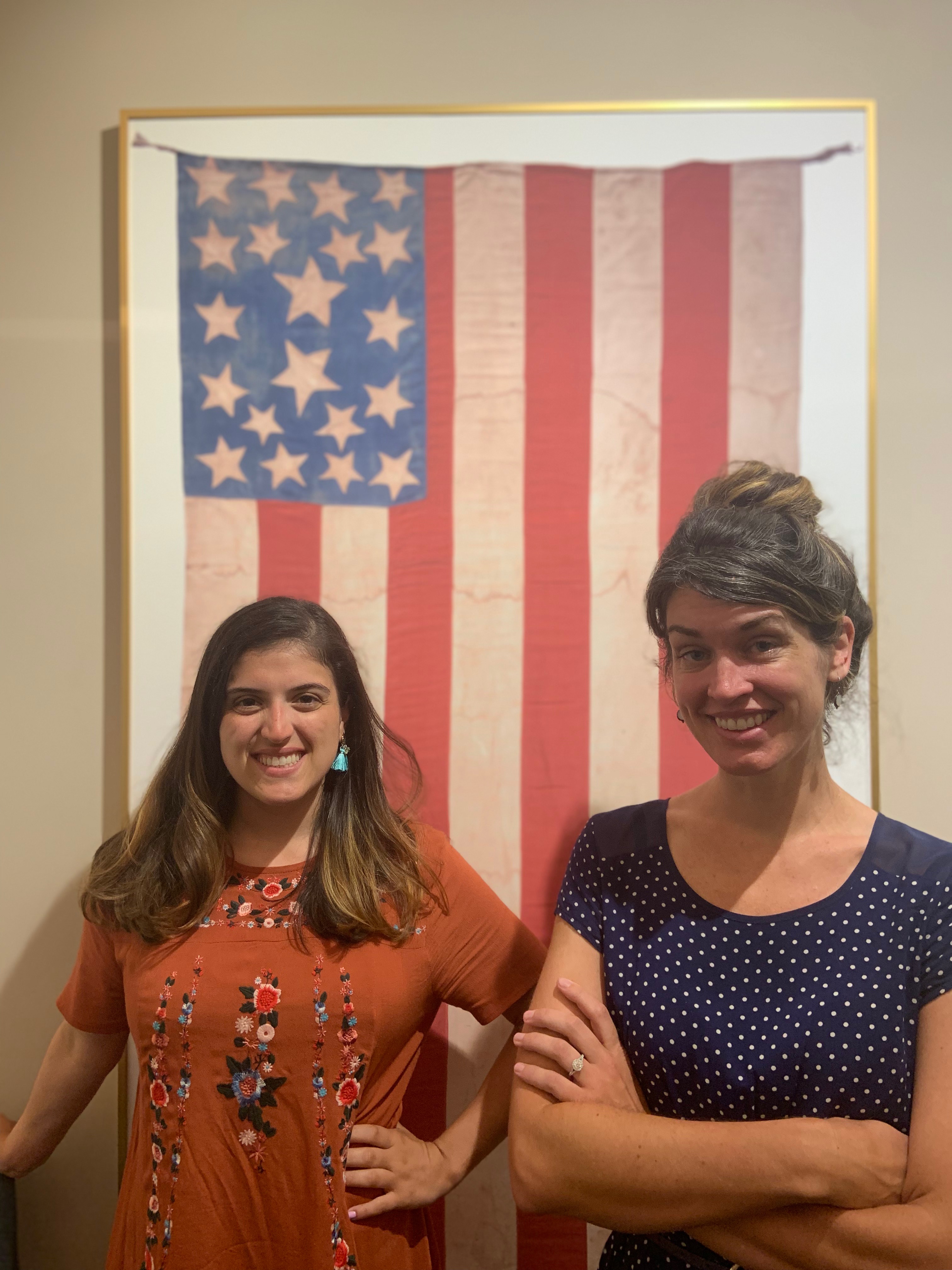 Upon entering the Gilder Lehrman office, visitors are welcomed by Cassidy Hooker and Morgan DeMartis. They have made the most of the opportunities the Gilder Lehrman Institute has to offer, and are excited to share that they will both be moving into new positions at the Institute.
Marketing and Communications intern Olivia Luntz spoke with Morgan and Cassidy in July 2019.
Olivia: What first sparked your interest in American history?
Cassidy: My ninth grade history teacher would always open class with a discussion about a current event, and that really stuck with me. I have always loved reading the news, and majoring in history was a direct outgrowth of that interest. Learning about history made me feel a stronger sense of civic engagement, and provided a rich context for why things are the way they are currently.
Morgan: I credit my interest in American history back to my childhood. First, traveling with my family and dragging them to various historical sites. I was a frequent patron of Historic Cold Spring Village in New Jersey. I was also very fortunate to have American Girl Dolls growing up, and I especially liked Felicity and her setting in the American Revolution and colonial America. I remember when I went to Colonial Williamsburg and my brain almost exploded I was so excited. Because of this I would read a lot of historical fiction and nonfiction as a kid and it just kind of stuck with me. I am also hoping to contribute to history education in one way or another, perhaps by becoming an educator myself one day, or by continuing to work with organizations like the Gilder Lehrman Institute. I'm doing my best to foster history education because I believe it is more important now than ever.
Olivia: What was your path to the Gilder Lehrman Institute?
Cassidy: I did my undergrad in history and got my master's degree in sustainable business. I've always been really interested in community-supported agriculture and environmental issues, and did my graduate work on how to effect behavior change when it comes to sustainability—basically, how to get more people on board with sustainable living despite the various barriers. I worked in the natural foods industry for ten years, with the five years doing operations at a local food market/farm-to-table restaurant. While I loved my role there, I was simply ready for a change. I was intrigued by the Gilder Lehrman Institute, and excited by the possibility of returning to an educational community—especially one dealing in American history. When I saw the job posting at GLI, it seemed like a very lateral move as far as responsibilities, but a really cool opportunity to move into a different field, surround myself with like-minded people, and align with a mission I care about. I began working here as office manager in April 2018.
Morgan: High school was the first time I discovered the Institute, during my AP US History exams. I remember using their materials to prepare, so it always kind of stuck in the back of my mind. I then went to Boston University, where I obtained dual degrees in Political Science and History and graduated in 2017. Once I came back to New York, I was looking for a job, and I knew I wanted to work for the Gilder Lehrman Institute somehow, so I kept tracking the organization on various job posting sites. In a stroke of good luck, I realized that Monica Koch, with whom I went to high school, worked in the Finance and HR Department. I reached out to her and she was able to give me information on the executive assistant position.
Olivia: What work have you done at the Institute?
Morgan: I am executive assistant to the president, Jim Basker. I got hired in October 2017, so I'm coming up on two years at the Institute in my position. Because Jim is the head of our institution I was able to work with various departments, including the development team. I got to spend some time with the Hamilton Education Program team at matinees whenever they needed help, usually backstage as the "Stage Mom," organizing students and getting them pumped to go on stage. The cool part about this position is that I'm able to be very flexible in where I spend my time depending on where I am needed.
Cassidy: I came on as the office manager, doing general day-to-day operations and also helping out with HR and finance work on the side. I had a lot of inventory management experience from the food world, and the Institute had lots of opportunities for wrangling our product inventory, including our posters and books, into order.
Olivia: Can you speak about what opportunities the Gilder Lehrman Institute has given you?
Morgan: In September 2018, we relaunched our online master's program with our new partner, Pace University. I had finished my bachelor's in May 2017 and in September 2018 I decided to get my master's in American history. My first course was Women in the American Revolution with historian Carol Berkin, which was revolutionary, pun intended. I'm hoping to finish my degree by August 2020. The experience has been so wonderful. I'm in a very unique position because I work for the Institute, so if I have a question or a problem, I can go down the hall and get Josh Burnett, the manager of online courses, or Mary Lennon, the online courses coordinator, to help me. Before this, I had taken one online summer class at BU, and I am delighted at how well the Gilder Lehrman program is going. Although it is all digital, we do have live classroom chats and Q&A sessions with our professors. I've gotten to work with amazing historians such as Carol Berkin, Catherine Clinton, Ned Blackhawk, and David Blight, who recently won the Pulitzer Prize, and that has been incredible. It's great to have all of these connections now, as well as friends I've made all over the country through the courses.
Cassidy: I have a lot of operations experience, but events are a whole different beast, and it has already been a terrific learning experience so far. Many employers are very siloed in their approach to roles and responsibilities, so one of the things I have appreciated most about working at the Gilder Lehrman Institute is having the flexibility to take on different tasks based on professional interest. The nature of my starting role here did allow for some wiggle room, and that has been a big opportunity in and of itself. I've never felt stuck and have always felt that if there was something I wanted to be involved in or learn about, I could ask. One specific example: I had the opportunity to take on some finance and HR work when our amazing HR associate, Kat Wulwick, went on maternity leave. GLI is incredibly supportive of professional development, and they graciously put me through some basic Quickbooks training when I expressed an interest in learning it to support my work in the finance office.
Olivia: What is on the horizon for you and your work at the Gilder Lehrman Institute?
Morgan: As the new Hamilton Education Program assistant, I'm excited to work directly with the program that I have been able to witness so many times. It is so incredibly worthwhile for teachers and students. I'll be helping with logistics because the EduHam team is going to as many cities as possible with the Hamilton touring productions. Funnily enough, when I was giving a tour during a college summer internship at Trinity Church, Lin-Manuel Miranda, creator of Hamilton, came through. So I've had this weird kind of Hamilton career path. I guess the next step is to put me on stage!
Cassidy: My new position, special events and operations manager, is a new role at the Institute. I'll be managing several of our big events, including our book prizes, gala, and book talks, as well as helping to oversee various meetings of our board and council, while continuing with the general operations work I already do.
Olivia: What is something you're most looking forward to in your new position?
Morgan: Being able to see all of my hard work and the team's collective hard work come together at the first matinee I get to go to. So far, I have just jumped in on the day-of to help out. But to see all of our work come together in that theater, wherever we may be, is going to be such a satisfying and incredible experience.
Cassidy: I am excited to be applying my skill set in such a new and different way. I also am psyched to be on the events team. The events I've been to have been really fun and interesting, and have helped me feel connected to the Institute's mission.
Morgan, currently executive assistant to the president, will become a member of the EduHam team as the Hamilton Education Program assistant in September.
Cassidy transitioned from her role as office manager to the special events and operations manager in June.