One of the Last Links to the Battle of Little Bighorn Dies
Posted by Kristin Miller on Friday, 04/08/2016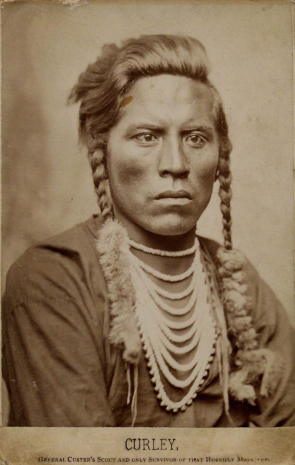 On April 3, 2016, Joseph Medicine Crow, the last living link to the Battle of Little Bighorn, died at the age of 102. Medicine Crow heard firsthand accounts of the 1876 battle from his great uncle White Man Runs Him, who was one of General Custer's scouts. Medicine Crow went on to become a noted historian and anthropologist of Native American history and culture, as well as a Crow war chief. He fought in World War II and in 2009 was awarded the Presidential Medal of Freedom by President Obama.
The Gilder Lehrman Collection includes a photograph of another of Custer's scouts, Ashishishe, called Curley. This 1876 cabinet card of Curley describes him as "General Custer's scout and only Survivor of that Horrible Massacre." Such cabinet cards were produced for display, and the existence of this one of Curley testifies to the importance of the battle in the American imagination.
Find out more by visiting Battle of Little Bighorn National Historical Site.