Swan, James (1754-1830) to Henry Knox
High-resolution images are available to schools and libraries via subscription to American History, 1493-1943. Check to see if your school or library already has a subscription. Or click here for more information. You may also request a pdf of the image from us here.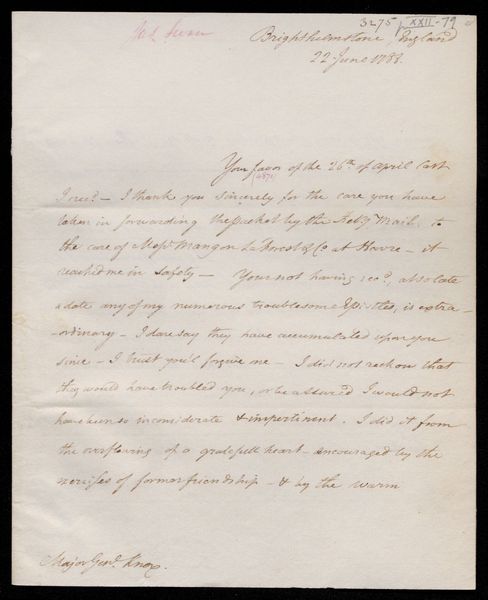 Summary of Content: Swan writes from Brighthelmstone, possibly Brighton, England. Remarks, "There is a coldness and indifference - so far distant from your Letters when I was at home, that chills my heart & forces a discharge, very involuntary of the warmth with which it is animated in love of you and your family."
Background Information: In the late 1780s, oppressed with heavy debts, Colonel Swan went to Paris with letters of introduction to Lafayette and other prominent men and eventually worked his way into a ...partnership in the firm of Dallarde, Swan et Compagnie, one of the firms that furnished supplies to the new French government after the French Revolution. When a business partner filed suit against him in 1808, Swan chose to go to a high-class debtor's prison at St. Pelagie instead of settling the claim. He stayed there for 22 years and died in 1831, just one year after his release. Hepzibah had lived in the house in Dorchester until her death in 1825 (from the Dorchester Atheneum). The Knox's were friends with Hepzibah Swan, James's wife, who remained in America when he left for France.See More
People: Swan, James, 1754-1830
Knox, Henry, 1750-1806

Historical Era: The New Nation, 1783-1815
Subjects: Revolutionary War GeneralFriendshipImmigration and MigrationRefugeesFinanceDebt
Sub Era: Creating a New Government