Announcing the 2018 History Teacher of the Year: Joseph Welch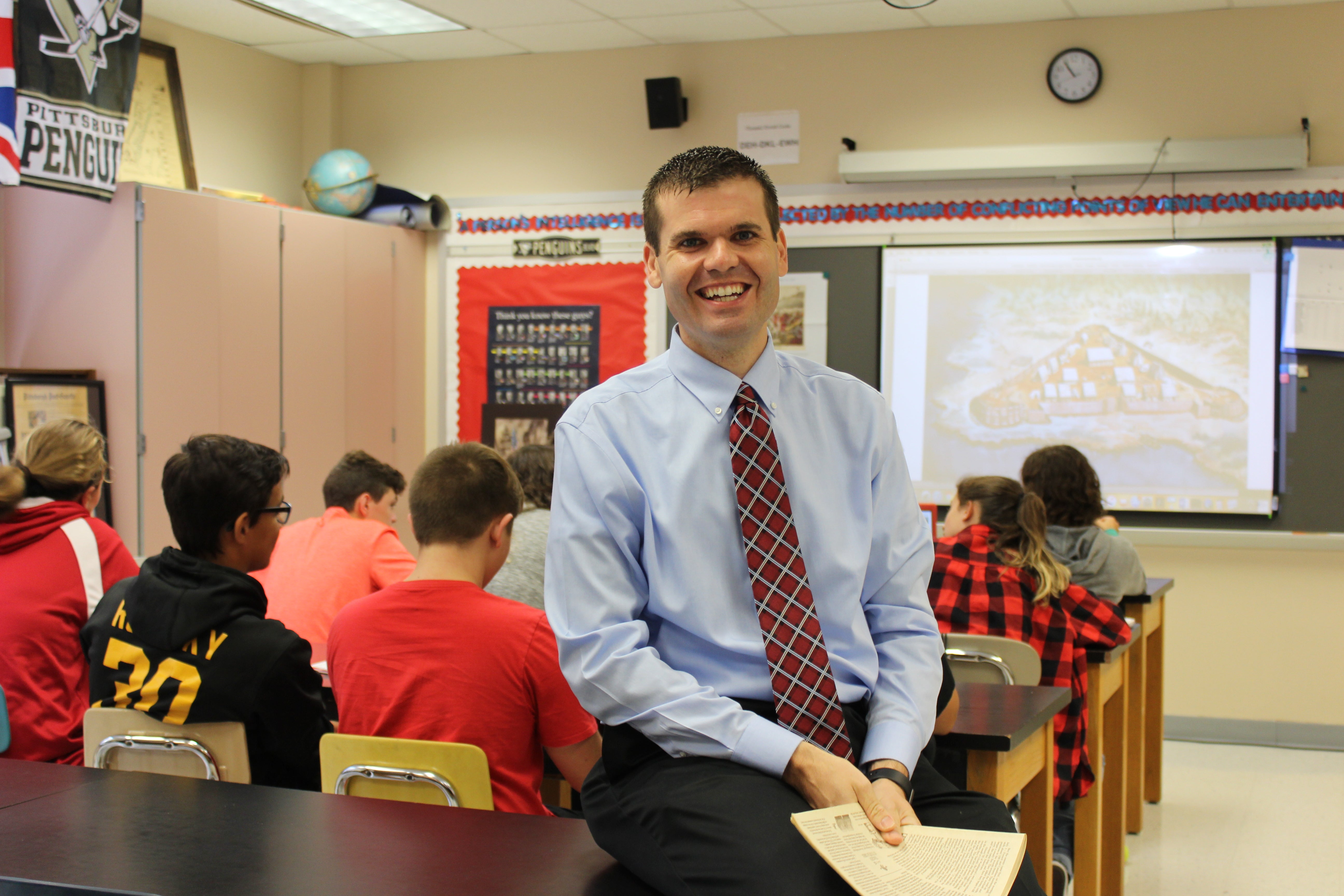 PITTSBURGH MIDDLE SCHOOL TEACHER JOSEPH WELCH NAMED 2018 NATIONAL HISTORY TEACHER OF THE YEAR__________ 
Award Sponsored by the Gilder Lehrman Institute of American History  Among Most Prestigious for History Educators 
NEW YORK, NY (September 20, 2018) --The Gilder Lehrman Institute of American History announced today that Joseph Welch, a social studies teacher at North Hills Middle School in Pittsburgh, Pennsylvania, has been named the 2018 National History Teacher of the Year. Welch, who at 33, is the youngest winner to date, will be honored at a ceremony at the Yale Club in New York on October 10, where Edward L. Ayers, Tucker-Boatwright Professor of Humanities and President Emeritus at the University of Richmond, will present him with the award and a prize of $10,000.    
"There are many facets of my teaching that I would like to continue to improve and partnerships I would like to explore, and the application process for this award has been both self-reflective and inspirational," said Welch. "My goal is to continue to innovate in my classroom and to be a leader and advocate for social studies and history education, both in my state and nationwide."
An eighth grade Social Studies teacher, Welch has also been the Curriculum Chair and Project Advisor for Project Connect, a sponsor of the National History Day Program for Regional Students, and the Director of North Hills Middle School's D.C. Trip Program.  "Joe Welch is a diligent educator who thoroughly realizes the difference that innovation and creativity in the classroom can bring to a child's education and future," said Dr. Patrick J. Mannarino, superintendent of North Hills School District. "He makes American history come to life as he strives to instill a love of the content matter through engaging and technology-driven coursework and projects. We are ecstatic that he has been recognized on the national stage and honored to have such a dedicated and forward-thinking teacher in our district."
Engaging and inspiring students in American history education has never been more critical. As the 2018 National History Teacher of the Year, Welch will serve as an important ambassador for the teaching community and a spokesperson for thought leader on the importance of high-quality American history education for all, particularly students from underserved communities.  "Joe Welch is an advocate for each and every student, working to find multiple strategies to reach out, engage, and challenge them at their level while creating the best educational learning environment possible," said David Lieberman, principal of North Hills Middle School. "I have learned to rely on Mr. Welch as an integral educational leader, a person who is passionate about student learning, and a National Board Social Studies teacher who takes on responsibility outside of the classroom. 
"It was a difficult job, to say the least, to pick a winner among this year's group of ten outstanding finalists," says James Basker, president of the Gilder Lehrman Institute of American History. "But Joe's all-consuming dedication to his students and teaching has been evident from the start of the judging process, and we think he perfectly embodies the profession." Inaugurated in 2004, the History Teacher of the Year Award highlights the importance of history education by honoring exceptional American history teachers from elementary through high school. The award honors one K−12 teacher from each state, the District of Columbia, Department of Defense schools and U.S. Territories. Winners of the state awards receive $1,000, an archive of Gilder Lehrman books and resources for their school library, and become finalists for the national award.  Nominations for the 2019 History Teacher of the Year awards are now open. Students, parents, colleagues, and supervisors may nominate K−12 teachers for the award at gilderlehrman.org/nhtoy.  About the Gilder Lehrman Institute of American History Founded in 1994 by Richard Gilder and Lewis E. Lehrman, visionaries and lifelong supporters of American history education, the Gilder Lehrman Institute of American History is the leading nonprofit organization dedicated to K–12 history education while also serving the general public. The Institute's mission is to promote the knowledge and understanding of American history through educational programs and resources.
At the Institute's core is the Gilder Lehrman Collection, one of the great archives in American history. Drawing on the 70,000 documents in the Gilder Lehrman Collection and an extensive network of eminent historians, the Institute provides teachers, students, and the general public with direct access to unique primary source materials.
As a 501(c)(3) nonprofit public charity, the Gilder Lehrman Institute of American History is supported through the generosity of individuals, corporations, and foundations. The Institute's programs have been recognized by awards from the White House, the National Endowment for the Humanities, the Organization of American Historians, and the Council of Independent Colleges. Learn more at gilderlehrman.org.