David McCullough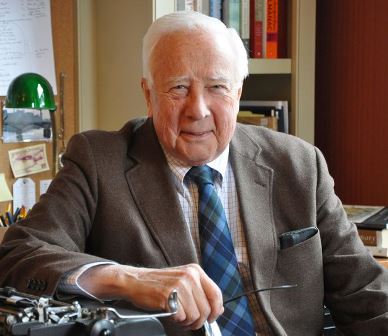 David McCullough has been widely acclaimed as a "master of the art of narrative history" and "a matchless writer." He is twice winner of the Pulitzer Prize and twice winner of the National Book Award, and has received the Presidential Medal of Freedom, the nation's highest civilian award.
McCullough's most recent book, The Wright Brothers, a number one New York Times best seller, has been called "a concise, exciting and fact-packed book." His previous work, The Greater Journey: Americans in Paris, has been called "dazzling" and "an epic of ideas . . . history to be savored," while John Adams, published in 2001, remains one of the most praised and widely read American biographies of all time. McCullough's other books include 1776, Brave Companions, The Great Bridge, The Johnstown Flood, Mornings on Horseback, The Path between the Seas, and Truman. His work has been translated and published in fifteen countries and, in all, more than 10,000,000 copies are in print. As may be said of few writers, none of his books has ever been out of print.
Born in Pittsburgh in 1933, McCullough earned a degree in English literature from Yale University, where he was graduated with honors. He is an avid reader, traveler, and devoted painter. McCullough and his wife, Rosalee Barnes McCullough, have five children and nineteen grandchildren.