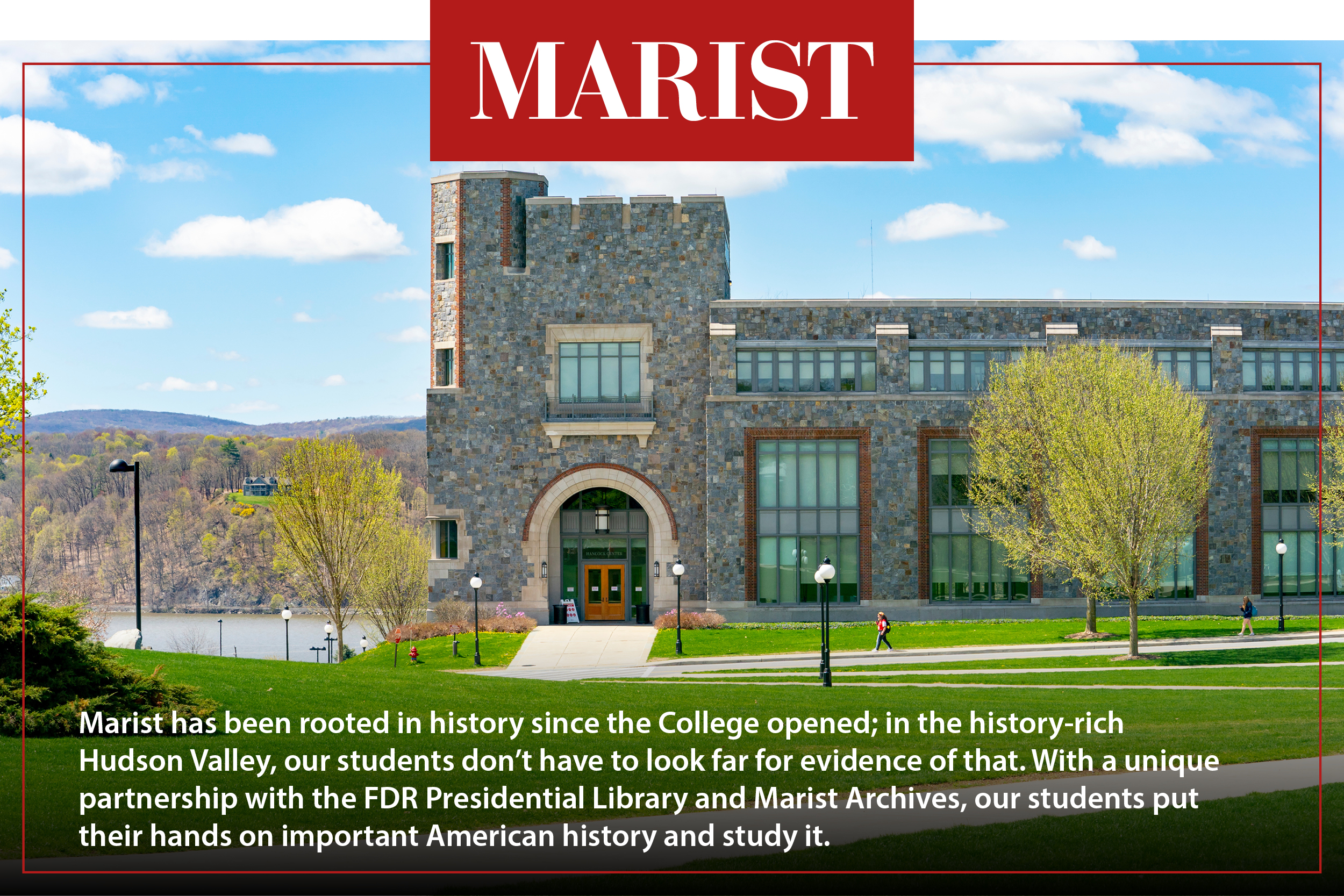 The Gilder Lehrman Institute and Marist College, with the generous support of the McCormick Family Foundation, are pleased to offer the McCormick Family Foundation–Gilder Lehrman Institute History Scholarship Program. Each year, scholarships will cover:
Two scholarships designated for Pell-eligible students from New York State, one in the amount of $10,000 per year for four years (assuming continued eligibility) for a residential student from outside the Hudson River Valley, and one in the amount of $10,000 per year for four years (assuming continued eligibility) for a commuting student from the Hudson River Valley.
One scholarship at $10,000 per year for four years (assuming continued eligibility) designated for a student without financial need from anywhere in the United States.
Additional funds may be provided to scholarship awardees to support incidental expenses and travel for each student to allow them to more fully participate in co-curricular and enrichment
activities. Scholars will also be inducted into a special society for additional opportunities and special programming offered in conjunction between the Institute and Marist. 
About Marist
Located on the banks of the historic Hudson River and at its Florence, Italy campus, Marist College is a comprehensive, independent institution grounded in the liberal arts. Its mission is to "help students develop the intellect, character, and skills required for enlightened, ethical, and productive lives in the global community of the 21st century."
Marist educates more than 5,000 traditional-age undergraduate students and 1,400 adult and graduate students in 47 undergraduate majors and numerous graduate programs, including fully online MBA, MPA, MS, and MA degrees, and also Doctor of Physical Therapy and Physician Assistant programs.
Marist is also home to numerous Centers of Excellence and is engaged in innovative partnerships and initiatives that set us apart from peer institutions. These include:
Center for Civic Engagement and Leadership
Center for Social Media
Center for Sports Communication
Hudson River Valley Institute
IDCP: Data Center Education
Marist/IBM Joint Study
Marist Mindset List
Marist Poll
Raymond A. Rich Institute for Leadership Development
Eligibility
The scholarship is open to students who are interested in History, have been accepted to Marist College, and enroll as a full-time undergraduate student. Preference will be given to students in the Institute's National Academy of American History and Civics.
How to Apply
Interested applicants can contact Kent Rinehart at admission@marist.edu with any questions.
---
Summer Pre-College Discount for Affiliate School Students
In partnership with the Gilder Lehrman Institute of American History (GLI), Marist is offering any students who attend an Affiliate School a 25% discount to attend our nationally recognized Summer Pre-College. The discount can be applied to any academic program, from Business to Pre-Law. Email Chris Doyle at Chris.Doyle@marist.edu with any questions or for more information.