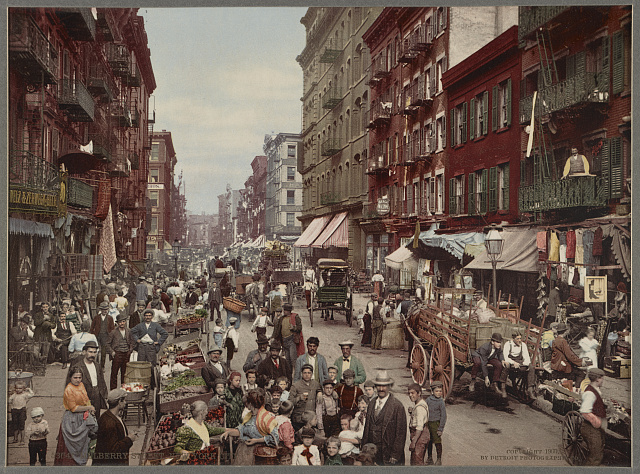 Our How Did We Get Here? professional development series has been designed to provide teachers with ready-made, classroom-friendly resources on topics in American history that are front-and-center in current events. The programs, held online on Zoom, feature lectures by leading scholars of American history and expert advice for teaching these topics in the classroom from some of the Gilder Lehrman Institute's Master Teachers. Together, these sessions cover the origins and evolution of key topics in American history that have great resonance tody. All participants receive Teaching Literacy through History™ lesson plans with enhanced features to align with online learning practices.
Each session will include
A lecture by an eminent historian in the field
A pedagogical session led by a Gilder Lehrman Master Teacher
A digital-friendly unit of lesson plans directly connected to the session topics
A Certificate of Attendance for two professional development hours
How Did We Get Here? sessions in 2021–2022 occurred on Tuesdays, 8:00 p.m.–10:00 p.m. ET (5:00 p.m.–7:00 p.m. PT).
Discounts are available for Affiliate School teachers and for districts signing up 5 teachers or more, as follows:
Standard non-Affiliate School rate
$79.99
Affiliate School discounted rate
$59.99

15% discount rate for 5–24 registrations

$67.99 (non-Affiliate School)

$50.99 (Affiliate School)

25% discount rate for 25–49 registrations

$59.99 (non-Affiliate School)

$44.99 (Affiliate School)

35% discount rate for 50+ registrations

$51.99 (non-Affiliate School)

$37.99 (Affiliate School)
If you are attempting to register multiple teachers to receive the above multi-registration discounts, if you would like to pay using a purchase order, or if you have any other questions, please email education@gilderlehrman.org.
How Did We Get Here? On-Demand: Classroom-Ready PD
How Did We Get Here? sessions are available as on-demand modules in our Classroom-Ready PD series on our Online Learning Community.
Visit the Classroom-Ready PD section of our History Shop to access these modules, and stay tuned for additional modules added throughout the year.
Upcoming Workshop Schedule
Our How Did We Get Here? series for 2021–2022 has concluded. Check back on this page soon for more information about How Did We Get Here? workshops taking place in 2022–2023.
Past Workshops
Session Date and Time
Session Topic and Speakers

September 14, 2021 8:00 p.m.–10:00 p.m. ET

The US Constitution: The Three Branches of Government and Evolution of the Supreme Court

with Akhil Reed Amar (Sterling Professor of Law and Political Science, Yale University) and Master Teachers Angel Brea (2013 New York History Teacher of the Year) and Jermain Corbin

October 5, 2021 8:00 p.m.–10:00 p.m. ET

Latino and Latina American Experiences

with Lilia Fernandez (Henry Rutgers Term Chair and Associate Professor of Latino and Caribbean Studies and History, Rutgers University) and Master Teacher April Vela

November 2, 2021 8:00 p.m.–10:00 p.m. ET

American Indian Experiences

with Donald L. Fixico (Regents and Distinguished Foundation Professor of History, Arizona State University) and Master Teacher CherylAnne Amendola (2017 New Jersey History Teacher of the Year)

January 11, 2022 8:00 p.m.–10:00 p.m. ET

The Transatlantic Slave Trade

with Gunja SenGupta (Professor of History, Brooklyn College, CUNY) and Master Teacher Justin Emrich (2016 Ohio History Teacher of the Year)

February 8, 2022 8:00 p.m.–10:00 p.m. ET

The Great Migration

with Steven Hahn (Professor of History, New York University, and winner of the Pulitzer and Bancroft Prizes) and Senior Education Fellow Ron Nash

March 1, 2022 8:00 p.m.–10:00 p.m. ET

US Foreign Policy: Post-World War I to the 21st Century

with Robert K. Brigham (Professor of History and International Relations on the Shirley Ecker Boskey Chair and Director of the Vassar-West Point Initiative, Vassar College) and Master Teacher John Irish (2020 Texas History Teacher of the Year)

April 5, 2022 8:00 p.m.–10:00 p.m. ET

US Foreign Policy: The Early Republic to World War I

with Jason Opal (Associate Professor of History, McGill University, and winner of the Organization of American Historians' Binkley-Stephenson Award) and Master Teacher John Irish (2020 Texas History Teacher of the Year)

May 3, 2022 8:00 p.m.–10:00 p.m. ET

Asian American History

with Jane Hong (Associate Professor of History, Occidental College) and Master Teacher Patience LeBlanc (2017 Texas History Teacher of the Year)

June 7, 2022 8:00 p.m.–10:00 p.m. ET

LGBTQ American History

with Chelsea Del Rio (Associate Professor of History, LaGuardia Community College, CUNY, and Co-Chair of the Committee on LGBT History for 2021–23) and Master Teacher Kory Loyola (2016 New Jersey History Teacher of the Year)