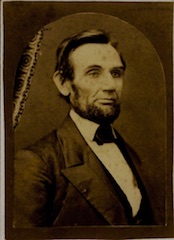 Reframing Lincoln Seminar: Myth, Memory, and Changing Narratives 
Dates: July 23–28, 2023
Location: Abraham Lincoln Presidential Library and Museum, Springfield, IL
Participants: K–12 teachers in the Gilder Lehrman Affiliate School Program
Application Deadline: April 3, 2023
In partnership with the Abraham Lincoln Presidential Library and Museum
The Reframing Lincoln Seminar: Myth, Memory, and Changing Narratives will allow up to 25 K–12 teachers to participate in a weeklong professional development event on-site at the Abraham Lincoln Presidential Library and Museum. The seminar will focus on how to study Lincoln as a myth, a man, and a president. It will explore Lincoln's beliefs and actions on issues ranging from emancipation, to Black citizenship and equality, to civil liberties in America. Attention will be given not only to Lincoln as a politician, but Lincoln as a person, unraveling simplified narratives to unveil a figure in his full complexity.
The scholar's lectures will also be live-streamed to any interested K–12 teachers. For more information and to register for remote sessions, visit this page. 
Application Information
Applications will be reviewed by Gilder Lehrman Institute and Abraham Lincoln Presidential Library and Museum staff.
The application closed on April 3, 2023. Selected teachers will be notified by May 1, 2023. 
Program Details
Scholar
Jonathan W. White is a professor of American studies at Christopher Newport University and the author or editor of more than ten books, including A House Built by Slaves: African American Visitors to the Lincoln White House (2022), I Address You As My Friend: African American Letters to Abraham Lincoln (2021), Emancipation, the Union Army, and the Reelection of Abraham Lincoln (2014), and Abraham Lincoln and Treason in the Civil War: The Trials of John Merryman (2011).
Master Teacher
Josh Bill, Gilder Lehrman Master Teacher and 2012 National History Teacher of the Year
Schedule and Readings
Throughout the week, teachers will participate in a variety of activities exploring the mythology, memory, and reality of Abraham Lincoln.
These activities will include
Scholarly lectures and discussions led by the seminar's scholar
Teaching Literacy through History pedagogy sessions led by a Gilder Lehrman Master Teacher
Discussions and presentations by Abraham Lincoln Presidential Museum and Library staff featuring primary source materials
Virtual or in-person field trips featuring local historical sites
A final schedule and required readings will be shared with participants before the seminar. Participants will be asked to purchase (up to $50) and complete the required readings before arrival in Springfield.
Registration Fee
Participants who are accepted into this program will be required to pay a $50 registration fee.
Travel, Meals, and Accommodations
Participants are responsible for making their own travel arrangements. Needs-based assistance regarding travel costs is available. For more information or to ask any questions, please contact education@gilderlehrman.org.
This seminar will take place at the Abraham Lincoln Presidential Library & Museum in Springfield, Illinois. Housing will be provided at a local hotel and participants will be placed in single rooms.
Meals will be provided for the duration of the symposium.
Policies
Participants will be required to attend and take part in all scheduled activities.
Participants will be asked to bring a laptop, tablet, or similar device. Materials presented before and during the week will be shared electronically.
COVID-19
All activities during the seminar will adhere to guidelines from the CDC and the State of Illinois. Based on the current guidelines, the Gilder Lehrman Institute will not require participants to show proof of COVID vaccination in order to attend the seminar, and masks will be optional. We will continue to monitor CDC guidelines and transmission rates and reserve the right to change this policy if we determine that it is in the best interest of the safety of our staff, scholars, and participants. We will notify all participants immediately if this policy changes.
If you have any questions, please email education@gilderlehrman.org.