Wendell, John (1731-1808) to unknown
High-resolution images are available to schools and libraries via subscription to American History, 1493-1943. Check to see if your school or library already has a subscription. Or click here for more information. You may also order a pdf of the image from us here.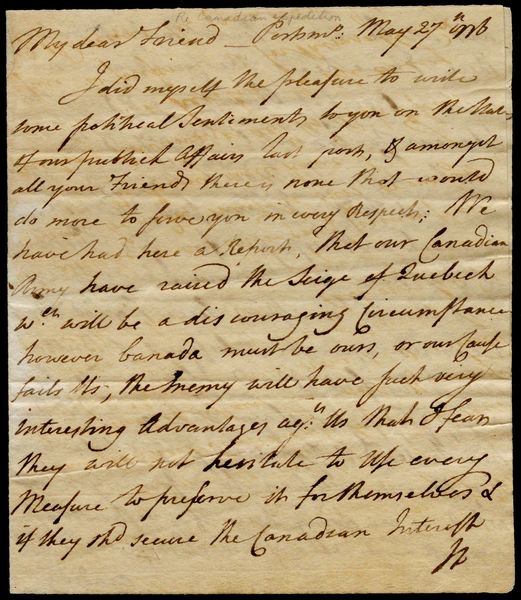 A high-resolution version of this object is available for registered users. LOG IN
Gilder Lehrman Collection #: GLC00252 Author/Creator: Wendell, John (1731-1808) Place Written: Portsmouth, New Hampshire Type: Autograph letter signed Date: 27 May 1776 Pagination: 4 p. ; 18 x 15.4 cm.
Summary of Content: Written by Wendell, a wealthy, well-connected merchant in New Hampshire to an unknown recipient. References a previous letter he wrote that mentioned political sentiments. Does not go into detail. Mentions a report of the broken American siege of Quebec. General Guy Carleton had defeated the Americans under General John Thomas on 6 May 1776. Says Canada must be won or the cause will fail. Claims the British now have "very interesting Advantages" and fears they will press them. Says if they receive the support of the Canadian interests then it will be beyond the power of the Americans to support an army there. Sent Colonel Hancock a newspaper he hopes the recipient can eventually see. Says he wrote a piece under the pseudonym "Americanus" on the delusions of Britain. Says if his recipient wants to know his opinions, "I shall ever be candidly ready to communicate them without Reserve." Hopes that a person named Gerry has not been subsumed in disappointment and chagrin after the failed exploits of his regiment. Hopes his recipient will provide for Gerry, as he is an excellent officer. Says his brother-in-law Colonel Wentworth has told him a public auction of ships and goods will take place in Portsmouth. Hopes his recipient can help him pull the money together to buy the berths. Asks him to solicit his friends: William Ellery, John Hancock, Robert Treat Paine, John Adams, etc. Says New Hampshire delegates might have other people to help and might not support them.
People: Wendell, John, 1731-1808
Carleton, Guy, Baron Dorchester, 1724-1808
Thomas, John, 1724-1776
Hancock, John, 1737-1793
Paine, Robert Treat, 1731-1814

Historical Era: American Revolution, 1763-1783
Subjects: Revolutionary WarGlobal History and US Foreign PolicyMilitary HistoryJournalismLiterature and Language ArtsCanadaContinental ArmyMerchants and TradeMaritimeFinancePresidentVice President
Sub Era: The War for Independence