Washington, George (1732-1799) to Messrs. Duchesne, de Barth, Thiebaud & Assoc.
High-resolution images are available to schools and libraries via subscription to American History, 1493-1943. Check to see if your school or library already has a subscription. Or click here for more information. You may also order a pdf of the image from us here.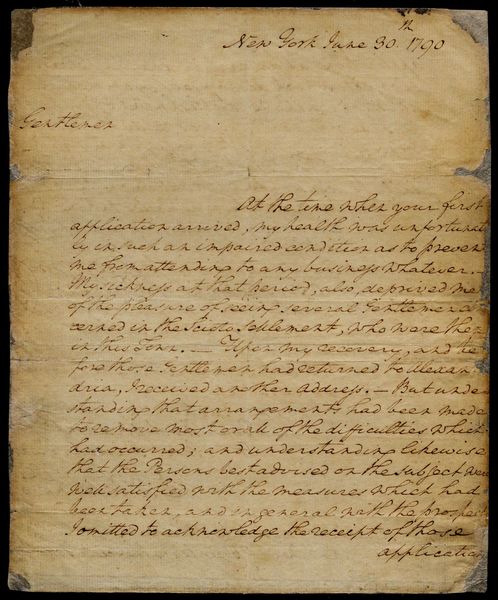 A high-resolution version of this object is available for registered users. LOG IN
Gilder Lehrman Collection #: GLC00311 Author/Creator: Washington, George (1732-1799) Place Written: New York Type: Autograph letter signed Date: 30 June 1790 Pagination: 2 p. ; 25 x 20 cm.
Summary of Content: Washington responds to French settlers who had invested in the Scioto Company, which had obtained an option on 5 million acres in the Northwest Territory. The company sold the lands to French citizens fleeing the Revolution. Unfortunately the Scioto project began to collapse in 1790 and was defunct by 1792. When the fraud was uncovered, the settlers had already arrived at Alexandria, so they petitioned Washington for redress. Ultimately, land was found for the settlers in Gallipolis, Ohio.
Background Information: Notes: Fitzpatrick 31: 64-65. Washington responds to French settlers who had invested in the Scioto Company, which had obtained an option on 5 million acres in the Northwest Territory. The company sold ...the lands to French citizens fleeing the Revolution. Unfortunately the Scioto project began to collapse in 1790 and was defunct by 1792. When the fraud was uncovered, they had already arrived at Alexandria, Va., so they petitioned President Washington for redress. Ultimately, land was found for the settlers in Gallipolis, Ohio. After Washington assumed the presidency in 1789, he developed a thigh tumor. So severe was the illness that Washington assured his doctor, Samuel Bard, "Do not flatter me with vain hope. I am not afraid to die." J.C. Fitzpatrick, George Washington Himself (Bobbs-Merill, 1933) p. 476.
Signer of the U.S. Constitution.See More
Full Transcript: New York June 30th. 1790
Gentlemen
At the time when your first application arrived, my health was unfortunately in such an impaired condition as to prevent me from attending to any ...business whatever. My sickness at that period, also, deprived me of the pleasure of seeing several Gentlemen concerned in the Scioto Settlement, who were then in this Town. Upon my recovery, and before those Gentlemen had returned to Alexandria, I received another Address. But understanding that arrangements had been made to remove most or all of the difficulties which had occurred; and understanding likewise that the Persons best advised on the subject were well satisfied with the measures which had been taken, and in general with the prospects I omitted to acknowledge the receipt of those [2] applications at an earlier day. The variety of objects which demanded my immediate attention, on the re-establishment of my health must be considered (as was really the case) a principal occasion of this delay on my part.
The design of this letter is particularly to acquaint you, Gentlemen, that I had not through inattention neglected taking notice of your Addresses; to wellcome you upon your arrival in this Country; and to assure you of all that Countenance and protection from the general Government of the United States which the Constitution and Laws will enable the Executive to afford under existing circumstances.
With the sincerest wishes for your health and prosperity
I am, Gentlemen,
Your Most Obedient and
Most Humble Servant
Go: Washington
To Messrs.
Duchesne, de Barth, Thiebaud,
and their Associates in the Scioto Sett[l]ement
See More
People: Washington, George, 1732-1799

Historical Era: The New Nation, 1783-1815
Subjects: PresidentImmigration and MigrationFranceLand TransactionWestward ExpansionFinanceEconomicsFrench RevolutionNorthwest TerritoryForgery and Fraud
Sub Era: The Early Republic