Lincoln, Abraham (1809-1865) to Edwin M. Stanton
High-resolution images are available to schools and libraries via subscription to American History, 1493-1943. Check to see if your school or library already has a subscription. Or click here for more information. You may also order a pdf of the image from us here.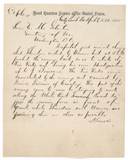 A high-resolution version of this object is available for registered users. LOG IN
Gilder Lehrman Collection #: GLC00639.21 Author/Creator: Lincoln, Abraham (1809-1865) Place Written: City Point, Virginia Type: Letter signed Date: 1 April 1865 Pagination: 1 p. ; 25 x 20 cm.
In hand of Ely S. Parker, Seneca Indian Chief, who was Grant's Secretary, per Charles Hamilton. re: reports of victory near Appomattox
Notes: Similar to Basler 8: 380-381, written to Seward. Basler quotes OR Series I, Vol. XLVI, III: 392, that "Same [telegram] to Hon. Edwin M. Stanton," and incorrectly surmises that Seward probably forwarded the copy to Stanton. Seneca Chief Ely S. Parker, who wrote this letter, was Ulysses S. Grant's secretary.
Cypher
Head Quarters of the Armies of the United States,
City Point Va. April 1, 5:30 [P.M.] 1865
Hon. E. M. Stanton
Secretary of War
Washington, D.C.
Dispatch just received, showing that Sheridan aided by Warren had at 2 P.M. pushed the enemy back so as to retake the Five Forks, and bring his own Headquarters up to J. Boissans. The Five Forks were barricaded by the enemy and carried by Devin's Division of Cavalry. This part of the enemy seems to now be trying to work along the White Oak [struck: swamp] Road to join the main force in front of Grant, while Sheridan and Warren are pressing them on as close as possible.
A. Lincoln