Hinman, Samuel Dutton, (1839-1890) Extract from a letter from the Reverend Samuel D. Hinman
High-resolution images are available to schools and libraries via subscription to American History, 1493-1943. Check to see if your school or library already has a subscription. Or click here for more information. You may also request a pdf of the image from us here.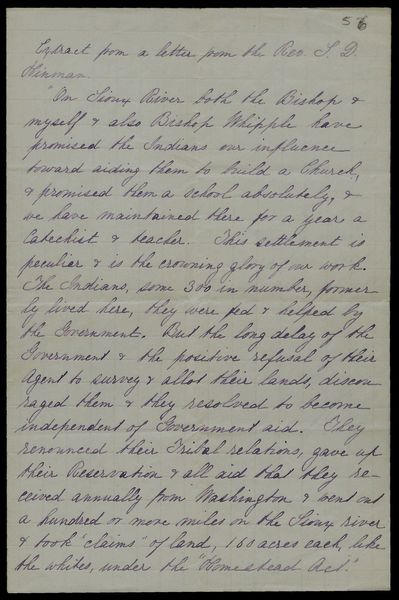 Summary of Content: Discusses missionary work with the Indians along the Sioux River who renounced tribal claims and took plots of land in accordance with the Homestead Act.
Full Transcript: Quotes

"They now been two years on their farms & they have supported themselves without any foreign aid of any kind, & their number is gradually increasing until it must soon included ...fully one half our tribe. This case is singular & commendable & shows what has never been shown before, that Indians can think for their children as well as themselves & that they are ready & willing to anything to advance their own civilization."
"I feel that this is our most interesting & promising station & that we ought to have a Church School there well sustained at least for the present."See More
People: Hinman, Samuel Dutton, 1839-1890

Historical Era: Civil War and Reconstruction, 1861-1877
Subjects: American WestAmerican Indian HistoryReligionLand TransactionLawGovernment and CivicsWestward Expansion
Sub Era: Reconstruction