Rivington, James (1724-1802) to Henry Knox
High-resolution images are available to schools and libraries via subscription to American History, 1493-1943. Check to see if your school or library already has a subscription. Or click here for more information. You may also order a pdf of the image from us here.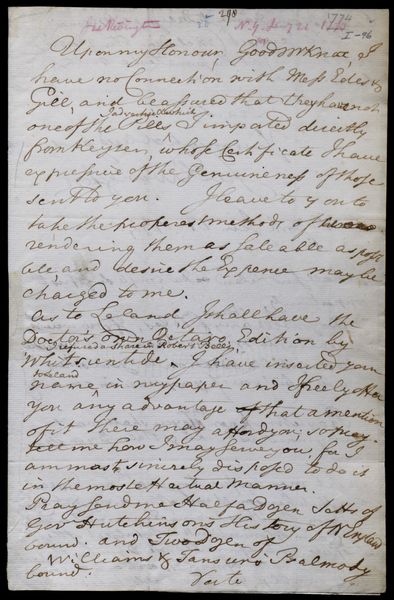 A high-resolution version of this object is available for registered users. LOG IN
Gilder Lehrman Collection #: GLC02437.00120 Author/Creator: Rivington, James (1724-1802) Place Written: New York, New York Type: Autograph letter signed Date: 21 January 1774 Pagination: 3p. +addr.+docket. 31.7 cm. x 20.1 cm.
Claims that he has no business relationship with Edes & Gill, and that he sent them none of the Keysey pills he sent to Knox. He leaves it to Knox "to take the proper methods of rendering them saleable." Orders books. States that he has placed an ad in his newspaper for Knox, and asks if he can help him in any other way. Asks if Knox sells fiddles and tells Knox to inform him when he needs additional pills. In regard to the Susquehanna Claim, Rivington indicates that he has sent information about the "Pennsylvania Examination into the Claim of Connecticut on the Subject of their Dispute" because it might be of interest to Governor of Massachusetts Thomas Hutchinson or Knox's other friends. This land dispute was not completely resolved until 1798 (see GLC03304). Rivington earlier arranged for Knox to advertise some medicine Rivington wanted to sell (see GLC02437.00062). Rivington was a bookseller, printer, and journalist who came to America in 1760. He published Rivington's New-York Gazetteer.
[draft]
Upon my Honour Good Mr. Knox, I have no Connection with Mess. Edes & Gill, and be assured that they have not one of the Pills [inserted: I advertise & which] I imparted directly from [Keyser], whose Certificate I have expressive of the Genuiness of those sent to you. I leave to you to take the properest methods of [strikeout] rendering them as saleable as possible, and desire the Expence maybe charged to me.
As to Leland I shall have the Doctor's own Octavo Edition by Whitsuntide. [inserted: I refused a share in Robert Bell's]. I have inserted your name [inserted: to Leland] in my newspaper and I freely offer you any advantage [struck: of] that a mention of it there may afford you; so pray tell me how I may serve you, for I am most sincerely disposed to do it in the [most effectual] manner.
Pray send me Half a Dozen Setts of Govr Hutchinsons History of N England bound and Two Dozen of Williams and Tansun's Psalmody bound.
[2] I added your name [inserted: also] to Dalrymple's Memoirs, which I expect (including the 2d and 3d Octavo Volume) at the same time with Leland.
I am
Dear Sir,
Your much obliged servt
Ja Rivington
N York Jan 21 1774
I shall send Leland [struck: &] Dalrymple [] first opportunity, Do you sell any [inserted: cheap] for 22 les. If you were to deal in The Music Branch it would be a profitable addition to your other. I will assist you if you please in concerting.
Pray let me know [strikeout] [inserted: when] you shall want anymore Pills and I can sell them to you on [by] post. As it may be of use to you go[th] his Excellency Gov Hutchinson and your other friends to Convey to them the Pennsilvania [sic] Examination into the Claim of Connecticut on the subject of their Dispute. I have forwarded on to you by the post as an earnest [expression] of my Disposition to accommodate and oblige you. I will also take other oppor[3]tunities of s[inserted: h]ewing you my attention.