Pemberton, Robert (fl. 1775-1787) to Henry Knox
High-resolution images are available to schools and libraries via subscription to American History, 1493-1943. Check to see if your school or library already has a subscription. Or click here for more information. You may also order a pdf of the image from us here.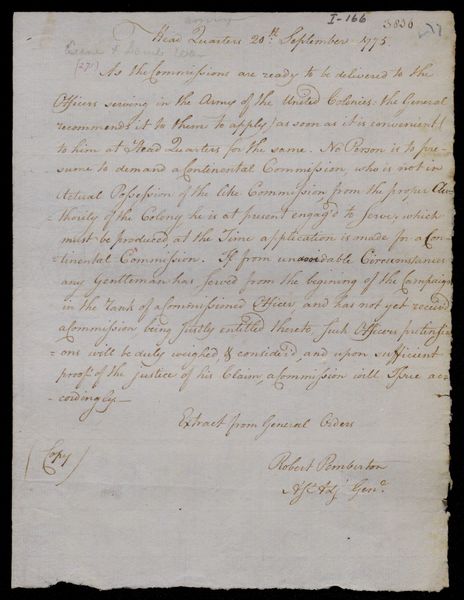 A high-resolution version of this object is available for registered users. LOG IN
Gilder Lehrman Collection #: GLC02437.00202 Author/Creator: Pemberton, Robert (fl. 1775-1787) Place Written: s.l. Type: Manuscript document Date: 20 September 1775 Pagination: 1p. ; 22.9 x 17.2 cm.
Summary of Content: Copy of an extract from general orders pertaining to applications for commissions in the Continental Army. Explains that before anyone obtains a commission from the Army of the United Colonies, they must first obtain one from the colony they will serve. Pemberton was an assistant adjutant general. Written at "Headquarters."
Full Transcript: [draft]
Head Quarters 20th September 1775.
As the Commissions are ready to be delivered to the Officers serving in the Army of the United Colonies: the General recommends it to them ...to apply as soon as it is convenient to him at Head Quarters for the same. No Person is to presume to demand a Continental Commission, from the proper Authority of the Colony, he is at present engag'd to Serve; which must be produced at the Time application is made for a Continental Commission. If from unavoidable Circumstances any Gentleman has Served from the begining of the Campaign in the rank of a Commissioned Officer, and has not yet receiv'd a Commission being Justly entitled thereto, Such Officers pretensions will be duly weighted, & consider'd, and upon sufficient proff of the justice of his Claim, a Commission will Issue accordingly. -
Extract from General Orders
Robert Pemberton
Ajt Adj Genl.
(Copy)
See More
People: Pemberton, Robert, fl. 1775-1788
Knox, Henry, 1750-1806

Historical Era: American Revolution, 1763-1783
Subjects: Revolutionary WarContinental ArmyMilitary HistoryGovernment and Civics
Sub Era: The War for Independence