Knox, Henry (1750-1806) to William Knox
High-resolution images are available to schools and libraries via subscription to American History, 1493-1943. Check to see if your school or library already has a subscription. Or click here for more information. You may also order a pdf of the image from us here.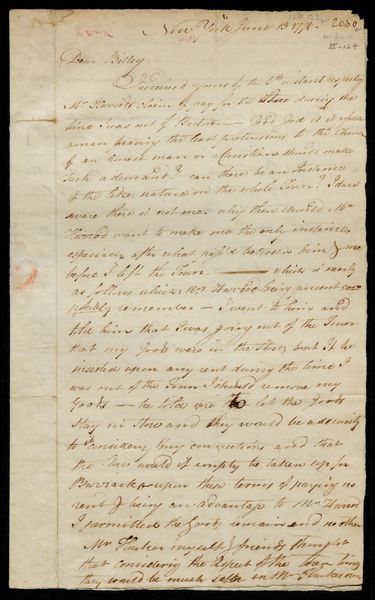 A high-resolution version of this object is available for registered users. LOG IN
Gilder Lehrman Collection #: GLC02437.00341 Author/Creator: Knox, Henry (1750-1806) Place Written: New York, New York Type: Autograph letter signed Date: 13 June 1776 Pagination: 3p.+addr.+docket. 31.7 cm. x 19.3 cm.
Comments on Benjamin Harrod's unchristian demand to be paid for taking care of Knox's bookstore merchandise while Knox was out of Boston. Explains the arrangements he made with Harrod and how they were being violated. Mentions that his books will sell in the country, but there is no way of replenishing the stock. Discusses fortifying New York and the lukewarm support of New Yorkers. Derisively comments that New York has two regiments, one made up of foreigners and the other unarmed. Reports that Lucy is ill, asks William to keep him updated on affairs in Boston, reiterates a request for money, and instructs that "a certain Major" should not be lent money.
[draft]
New York June 13 1776 -
Dear Billey
I received yours of the 6th instant respecting Mr. Harrods claim of pay for the Store during the time I was out of Boston - Good God is it possible a man having the least pretensions to the Character of an honest man or a Christian should make such a demand? can there be an Instance of the like nature in the whole Town? I dare sware there is not one. why then should Mr Harrod want to make me the only instance especially after what pass'd between him & me before I left the Town. - which is nearly as follows, which Mrs. Harrod being present can possibly remember - I went to him and told him that I was going out of Town that my Goods were in the Store, but If he insisted upon any rent during the time I was out of Town I should remove my Goods - he told me to let the goods stay in store [used?] they would be a security to it considering my connections and that the store would if empty be taken up for Barracks upon these terms of paying no rent & being an advantage to Mr Harrod I permitted the Goods remain and no other[.] Mrs Flucker myself & friends thought that considering the Aspect of the [illegible] times they would be much safer in Mr Fluckers [2] own houses[.] I think it impossible for him to be serious. If he is I shall be so too and cannot pay him anything - by my keeping my goods in his store for the security of it they have been taken away. I've been mobb'd & plundered now to add a Demand for Rent after this kind of usage is odd enough to be sure - The rent that he Demands for the store now we are occupying it is too great & much more than I can afford to pay - consult my friends Harry Jackson & Doctr Gardiner concerning the proposition of sent now & three or four Years ago and let me know the result - possibly the Books may sell better in the Town than Country - but such Booty would sell in the most interior parts of the Country - they are not to be replenish'd - we can get no more from any other part of the World - [illegible] me so then I want to know every Circumstance your way however trivial. We are exceedingly buisy [sic] in fortifying this place It will be as Srong as the nature of the Ground will admit. The Inhabitants of this Colony are exceedingly lukewarm - neither hot nor cold - altho' their Colony has the prospect of being Immediately attack'd - Its Instruments to be made Slaves. - Your Sister is Very unwell this morning, but I hope nothing more than the fatigue of her baby, who is in very fine Health. Give my love to Harry & the Doctor Oliver Smith & J [Laupton?] write me what the later is Whig or the remnant of a Tory - In haste Adieu
Harry Knox
[3] beware of a certain Major - lend him no money I owe him none - therefore pay none - I hope You have sent the money I write for some time ago -
[address leaf]
Mr. Willm. Knox
Boston
[docket]
Letter from Collo Knox
June 13th. 1776 -