Jackson, Henry (1747-1809) to Henry Knox
High-resolution images are available to schools and libraries via subscription to American History, 1493-1943. Check to see if your school or library already has a subscription. Or click here for more information. You may also order a pdf of the image from us here.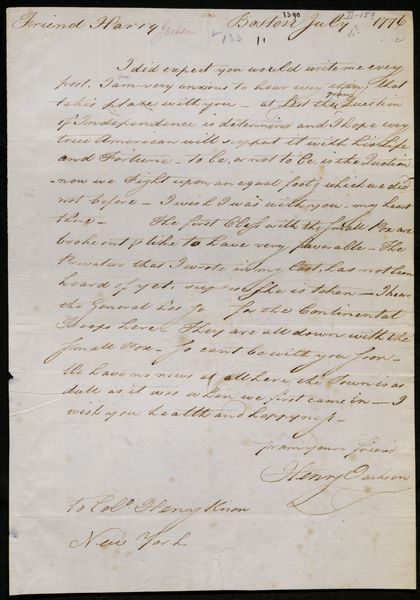 A high-resolution version of this object is available for registered users. LOG IN
Gilder Lehrman Collection #: GLC02437.00376 Author/Creator: Jackson, Henry (1747-1809) Place Written: Boston, Massachusetts Type: Autograph letter signed Date: 15 July 1776 Pagination: 1 p. : address : docket ; 29.3 x 20.3 cm.
Wants Knox to write more frequently to keep him updated on activities in New York. Remarks that "at Last the grand Question of Independence is determined and I hope every true American will support it with his Life and Fortune." Comments on smallpox afflicting the Continental troops and the lack of news about the privateer he discussed in his previous letter (GLC02437.00370). Date of 15 July 1776 from docket. Header of letter only dated July 1776.
[draft]
Boston July 1776
Friend Harry
I did expect you would write me evey post. I am very anxious to hear every thing that takes place with you - at Last the grand Question of Independence is determined and I hope every true American will support it with his Life and Fortune - to be, or not to be, is the Question - now we Fight upon an equal foot'g which we did not before - I wish I was with you - my heart there - The first Class with the small Pox are broke out and like to have very favorable - The Privateer that I wrote in my last, has not been heard of yet, suppose she is taken - I hear the General has [text loss] for the Continental Troops here - They are all down with the small Pox - so cant be with you soon - We have no news at all here the Town is as dull as it was when we first came in - I wish you health and happiness -
from your friend
Henry Jackson
To Colo Henry Knox
New York