Knox, William (1756-1795) to Henry Knox
High-resolution images are available to schools and libraries via subscription to American History, 1493-1943. Check to see if your school or library already has a subscription. Or click here for more information. You may also order a pdf of the image from us here.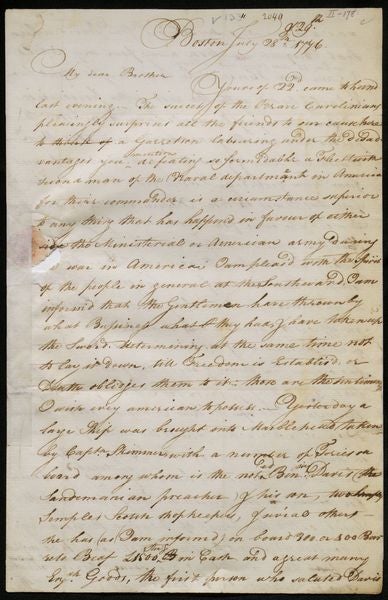 A high-resolution version of this object is available for registered users. LOG IN
Gilder Lehrman Collection #: GLC02437.00397 Author/Creator: Knox, William (1756-1795) Place Written: Boston, Massachusetts Type: Autograph letter signed Date: 28 July 1776 Pagination: 3 p. : address ; 32.1 x 20.5 cm.
Discusses the recent American victory in Charleston, South Carolina, and praises the patriotism and dedication of those in the southern campaign. Notes Captain Skimmer (possibly a privateer) seized a large ship and brought it to Marblehead, Massachusetts, and captured Benjamin Davis, a sandemanian preacher who was on board. Reports supplies on board. Davis and the other prisoners were brought to Boston, where the guards had to prevent the people from attacking him. Recounts what he recently wrote to Lucy Knox about her family and the establishment of a Court of Inquiry to try Tories (see GLC02437.00396). Comments on the smallpox outbreak in Boston.
[draft]
J 29.th
Boston July 28.th 1776.
My dear Brother
Yours of 22.d came to hand last evening - The success of the Brave Carolinians pleasingly surprises all the friends to our cause here [struck: to think of] a Garretson labouring under the disadvantages you [inserted: mention] defeating so formidable a Fleet with second man of the Naval departm[struck: a][inserted: e]nt in America for their commander is a circumstance superior to any thing that has happen'd in favour of either [struck: side] the Ministerial or American army during the war in America; I am pleas'd with the Spirit of the people in general at the Southward. I am inform'd that the Gentlemen have thrown by what Business what if they had, & have taken up the Sword. Determining, at the same time not to lay it down, till Freedom is Establis'd, or Death obliges them to it: those are the intentions I wish ev'ry american to possess. - Yesterday a large Ship was brought into Marblehead, taken by Cap.tn Skimmer with a number of Tories on board among whom is the not[inserted: ed] Benjn Davis (the Sandemanian preacher) & his son, two simply Temples Scotch shop keepers, & sev'ral others - the has (as (I am informed) on board 300. or 400 Barrels Beaf £ 1500 [inserted: Sterling [struck: B] in Cash and a great many Eng.sh Goods, the first person who saluted Davis [2] was a man who sayd to him "You Davis where's that Bisquit you took away from my Child [inserted: when it was going out of Town] & gave it to a Horse" he was brought round from Marblehead with the rest of the prisoners in a Boat, our people would have torn him to pieces had not the guard have prevented them - I wrote M.rs Knox & yourself my M.r Deblois who went from Town yesterday. I write yours to send by Thursday's post; but I was to late. I inform'd M.rs Knox what Capt. Dauce [inserted: told one] who came from England lately by the way of Halifax, which was that M.rs Flucker [struck: &] Mr. D[illegible] & Sally had gone from thence, M.rs Fitch the [text loss] told him that the two former had gone to England & he understood her that Sally had gone to Ireland with an officer to whom she was married. - In consequence of Independence being declar'd here, all the signs which had Crowns [struck: f] on them & every thing about the Town that look'd kingly, even the Mitre & Crown [struck: from] [inserted: in] the organ lost [struck: sp] [struck: Kins] Chappell were taken down, & M.r Parker (who is the episcapal Minister in Town) left of praying) for the King. - [struck: He s] The General Assembly have [struck: appointed] [inserted: instituted] a Court for [struck: the purpose] the purpose of Trying & punishing the Tories call'd the Court of Inquiry, they have try'd & Condemn'd several, the punishments to be inflicted on [inserted & struck: that] [inserted: those that] have been try'd, are [struck: some] Banishment [struck: some for 2 forms] some for 2 & others for 7 months. - [3] & bonds, [struck: for some] for their good political behavior for 1.Year, [struck: a man] .M.r James Perkins, [inserted: Honr] Doctor Whitworths - Tho.s Amory, John Timmings are among the prescrib'd - The small part in general has been pretty favourable, however many have been severely pepper'd & some few have died, - it is far from being over yet. I imagine the Town will be made an Hospital of [struck: there] six weeks or two months to come. I intend to pay [inserted: today] M.r Bradley who is Captn in the provincial, train, & M.r Thayer when he comes to Town, he lives almost intirely out of Town now. - Bussiniss continues to be very dull at the Country people hav'nt those access to the Town they us'd to at least only those who have had the small pox. -
I am my dear Brother
Yrs. Affectionately
Wm Knox
M.r Jackson will give you}
some acco.t of a conversation}
he held with young Mr. Davis}
relating to News}
[address leaf]
3,, 8
To 1/6
Colonel Henry Knox
in
New York.
Post
Boston