Knox, Henry (1750-1806) to Lucy Knox
High-resolution images are available to schools and libraries via subscription to American History, 1493-1943. Check to see if your school or library already has a subscription. Or click here for more information. You may also order a pdf of the image from us here.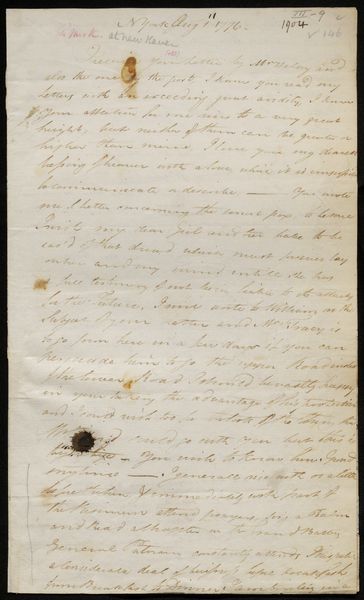 A high-resolution version of this object is available for registered users. LOG IN
Gilder Lehrman Collection #: GLC02437.00408 Author/Creator: Knox, Henry (1750-1806) Place Written: New York, New York Type: Autograph letter signed Date: 1 August 1776 Pagination: 3 p. : address : docket ; 30.7 x 18.2 cm.
Reaffirms his love for his wife. Discusses smallpox and the possibility of Lucy going to Boston to be inoculated. Comments on various daily and domestic activities, like how he typically spends his time, with whom he dines, and what time he goes to bed. Mentions being ill. Discusses the possibility of Lucy returning to him. Mentions that business prevented him from having a meeting with Lord William Howe, whom he believes will soon attack.
[draft]
NYork Aug 1 1776 -
I receivd Your Letter by Mrs Halsey and also the one by the post, I know you read my Letters with an exceeding great avidity, I know your affection for me rises to a very great height, but neither of them can be greater or higher than mine, I love you my dearest b[l]essing of heaven with a love, which it is impossible to communicate or describe - You wrote me a Letter concerning the small pox, to be sure I wish my dear Girl and her babe to be eas'd of that dread which must forever lay on her and my mind until she has a full testimony of not being liable to its attacks for the Future. I will write to William on the Subject of your Letter and Mr Tracy is to go from here in a few days - if you can persuade him to go the upper Road insted of the lower Road I should be vastly happy in your taking advantage of his protection and I could wish too for the [l]ook of the thing that Mrs Pollard could go with you but this is by the bye - You wish to know how I spend my time - I generall rise with or a little before the Sun, & immediately with part of the Regiment attend prayers, sing a Psalm and Read a Chapter in the Grand Battery General Putnam constantly attends I dispatch a Considerable deal of business before breakfast from Breakfast to Dinner I am broiling in a [2] Sun hot enough to roast an egg. Indeed my dear Lucy I never suffer'd so much from Fatigue in my life. I like you am In a high distress my arms being much broken out - Drink tamarinds and water, a quantity of them I send you by Colo Sears, who sets out this day for NHaven by Water - Doctor Eustis advises you to Drink it and also sends his Compliments, my dear Lucy makes me smile to demand a written permission from me for her to Return After she has Had the small pox, I am almost afraid to tell you how much I long to see you [struck: know] [inserted: now] and how much more shall I then, indeed my dear you shall Return at any time you see proper and it shall be thought prudent so to do
The affair of the small pox I look upon as a very serious Concern of life - no person has recently had it bad at Boston, the Species are very kind, however if there should be any hesitation in my Lucys mind I do not press it. - it is left entirely at your option and yet I have given you so much of my mind as to know its desire - Above I was telling you that I had a blister; I was bled for that and the headach about an half hour [a]go, don't be frigtned only the extreme hot weather and rather too much buisness - But I don't intend to go much in the sun today - sometimes I dine at home with not much more than my rations at others I dine out at General Washingtons Lord & Lady Putnams &c &c &c [3] but I am mortified that I have not had them to dine with me in return, however that cannot be The Dutch Girl you left behaves well if there is any truth in flint, I find my Cloaths clean and in pretty good order - The other Girl went away a day or two ago if [Henly] and she had any correspondence they kept it entirely from my knowledge - does Harry Jackson or Bill write you I have not had a Letter from Bill for two posts I would have sent you the wine you desire but there is none in this city but at a Dollar or [illegible] per Bottle - if You tell me you shall not go to Boston I will send you a Dozen instantly - Mr Tracy the day before yesterday with Mr Palfrey went on [illegible] Lord Howe and had a curious conversation of [struck: two] [inserted: one] hour[struck: s] I should have been very happy to have gone and it was intended but [illegible] business prevented - he will tell you when he sees you - however he will get his friends exchang'd
I am my only Love yours
with the most perfect affection
Yours H Knox
Yes I forgot to tell you I go to bed about nine oClock or before every night - we Intend attacking with the Bow Galleys soon & I believe Lord Howe intends attacking us
God preserve You
tomorrow I will do as you desire
of You & your babe
[written on side of page 3]
my complements to M[rs] Pollard and [beg] to not think of me [illegible]
[address leaf]
Mrs. Knox
NHaven
[docket]
Aug/76
[struck: Mr]
Genl to Mrs K