Knox, Henry (1750-1806) to Lucy Knox
High-resolution images are available to schools and libraries via subscription to American History, 1493-1943. Check to see if your school or library already has a subscription. Or click here for more information. You may also order a pdf of the image from us here.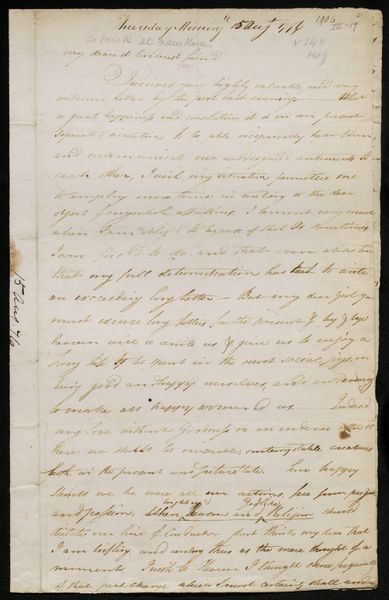 A high-resolution version of this object is available for registered users. LOG IN
Gilder Lehrman Collection #: GLC02437.00419 Author/Creator: Knox, Henry (1750-1806) Place Written: New York, New York Type: Autograph letter signed Date: 15 August 1776 Pagination: 3 p. : address : docket ; 33.3 x 20.7 cm.
Expresses thanks for their ability to communicate while separated and is looking forward to their future together. Philosophically expresses hopes that reason and religion will someday dictate man's actions. Writes that he "will make a very family man when peace shall again bless this...Country." Discusses their own troops strength and activities. Also comments on the Hessians and the British, and writes passionately about being wronged by and separating from the British. Comments on Lucy's account with a man named Peter. Reassures her that his health has improved. Comments on her new an indentured servant, Thomas Eliot. Advises her not to get a smallpox inoculation because of the hot weather. Comments on their baby's health.
[draft]
Thursday Morning 15 Augt 1776
My dearest tenderest friend
I received your highly valuable, and very welcome Letter by the post last evening - What a great happiness and consolation it is in our present seperated situation to be able reciprocally hear from and communicate our undisguis'd sentiments to each other, I wish my situation permitted me to employ more time in writing to the dear object of my whole affections. I lament very much when I am oblig'd to break of that as sometimes I am forc'd to do and that even at a time that my full determination has been to write an exceeding long Letter - But my dear Girl you must excuse long Letters for the present & by & bye heaven will re unite us & give us to enjoy a Long Life to be spent in the most social joys, in being good and happy ourselves, and endeavoring to make all happy arround us - Indeed my Love without Goodness or an endever after it here we shall be miserable, contemptable creatures both in the present and future State. how happy Should we be were all our actions, free from [illegible] and passion, when [inserted: brighten'd] Reason and [inserted: Godlike] Religion should dictate our line of Conduct, dont think my dear that I am trifling, and intoning this as the mere thought of a moment. I wish to Heaven I thought more frequently of that great change which I most certainly shall [illegible] [2] and the Great tremendously great consequences after their Charge - this is a matter that concerns all and for which all ought to be prepard - Your intelligence concerning the dear pledge of our mutual affection is to me both interesting and pleasing - I beleive I shall make a very family man when peace shall again bless this despis'd Injur'd and Insulted Country -
Mr Root it appears from your Letter has alarm'd You by saying he had it from General Washington that we had not more the 20 000 strong - This must have been some time past we have had since thousands of very fine troops arrivd within these [struck: days] few days from the Southward and Connecticut and we hear certainly of Considerable numbers more on their march - Their whole reinforcement is now arriv'd, and I suppose they soon will make their ground push - how or in what shape that will be is a little uncertain at present we yesterday had a deserter from them who appears to be an addled headed fellow and incapable of giving much Information - [struck: I think with] The Hessians from every Information appear to be a sett of people formidable only by their numbers which are about 10 or 12 000, otherwise they a parcel of poor uninterested scoundrells who have nor of right ought to have any other Interest in this quarrel but what money influences - Sir Parkers ship the Bristol arrived Yesterday - she came in a lame Duck nothing [present] but his foremast the rest Jury masts - I have very little doubt with the blessing of that God to Whom we ought to look for help that we shall be very well able to withstand [3] The force of these troops - Vain [struck: people] Nation how hast thou despis'd us! how hast thou oppressd and insulted us as if there were none to help us - and now like a desperate Gambler thou art about to venture thy very existence as a people upon an action [inserted: in] which if thou shalt be beaten then art totally lost and gone perhaps for ever - adieu Britain forever adieu - Peters account to you of the letter as you relate it is humorous; he has [illegible] written Me a Letter [inserted: for] the Composition and Sentiment of which I love him much but not to your Right or prejudice - he really is a sensible Lad -
My Lucy need not be anxious on the account of the health of her friend, he never has been [text loss] health than since he took the emetic. The [text loss] I have not had - nor do I beleive there has any number dyd of it or that it was more than half as bad as it was at Cambridge last Year - I am pleas'd your boy Thomas behaves to your liking as he by being bound to you is not liable to be shifted every day - cant you contrive to get him taught some writing - [strikeout] All our friends advise you not to take the small pox at present as it has thro the hot weather turn'd rather more malignant. What you mention about the babe, I should rather think it had better be wean'd I don't seem to like it shoud suckle any body but you - this may be whine in me if so don't regard it - don't let her hurt your precious health for remember your health is as dear to me as mine is to you. May God bless you and Remember me in your[illegible] to that throne where they are due
Yours entirely - HKnox
[written on left side margin of page 3]
I am glad to hear Mrs Pollard is better
Give my Respects to her & tell [inserted: her] Mr Pollard is in good Spirits & has no notion of being Kill'd
[address leaf]
Mrs. Lucy Knox
New Haven
Post
[docket]
Genl to Mrs K.