Knox, Henry (1750-1806) A plan for the establishment of a Corps of Continental Artillery, Magazines, Laboratories &c
High-resolution images are available to schools and libraries via subscription to American History, 1493-1943. Check to see if your school or library already has a subscription. Or click here for more information. You may also order a pdf of the image from us here.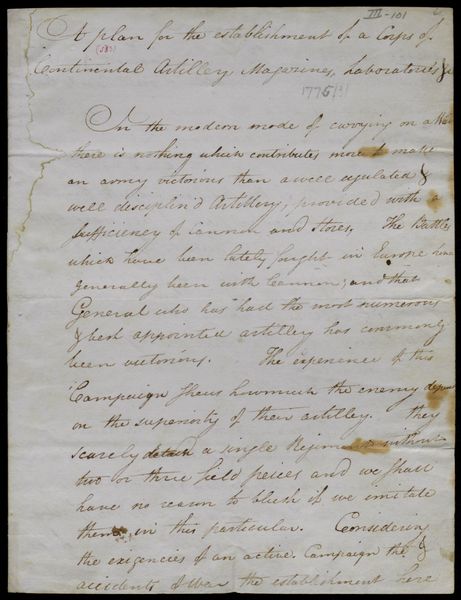 A high-resolution version of this object is available for registered users. LOG IN
Gilder Lehrman Collection #: GLC02437.00505 Author/Creator: Knox, Henry (1750-1806) Place Written: s.l. Type: Autograph document Date: [18 December] 1776 Pagination: 4 p. : docket ; 24.2 x 18.3 cm.
Argues that "a well regulated...well disciplined" and well supplied artillery is the most important factor in modern war, and has recently proved decisive in Europe. The British rely on artillery, and feels America should copy them. States the most talented men need to be put into the artillery, and paid more highly than infantry. Lays out the ideal organization of the artillery, with five battalions subdivided into twelve companies each. Lists the number of men ideal for each unit. Also wants a unit of artificers attached to the artillery and a laboratories built in Hartford, Connecticut and Lancaster, Pennsylvania "for the reception & preparation of military stores." Also desires that more cannon be made easily accessible to the artillery. At bottom, in pencil, is written a list of items needed to move artillery pieces, with quantities listed next to them.
[draft]
A plan for the establishment of a Corps of Continental Artillery, Magazines, Laboratories & c
In the modern mode of carrying on a War there is nothing which contributes more to make an army victorious than a well regulated & well disciplin'd Artillery, provided with a sufficiency of Cannon and [Hores], The Battles which have been lately fought in Europe hence generally been with Cannon; and that General who has had the most numerous & best appointed artillery has commonly been victorious. The experience of this Campaign shows how much the enemy [depends] on the superiority of their artillery. they scarcly detach a single Regiment without two or three field peices and we shall have no reason to blush if we imitate them in this particular. Considering the exigencies of an active Campaign the & accidents of War the establishment here [2] here propos'd will not be superior if equal to the service requird. The Genius Industry & care requisite in the preparation of all kinds of military stores and the management of the Cannon render it necessary that the best men be emloy'd in this service and as the generally detach'd state of the Artillery subjects them to much greater expence than if they were together their pay ought to be twenty five [Dor.] more than the marching regiments. In the British and French Services the [pay] [of the] double to [share] of the [loot]
It will be necessary to have five Battalions of Artillery each Battalion to consist of
one Colonel
one Lt Colonel
one Major
twelve Companies to each Battalion, of one Capt one Capt Lieut 4 Lieuts 6 Sergeants 6 [Corporals] 6 Gunners 6. Bombadiers & 28 [Matrosies]
That after the appointment of the officers they be permitted to recruit in any of the united states of America
one Commissary
[3] General of Military stores and as many deputy Commissaries & Conductors as the nature of this service may require and the Commander in Chief thinks necessary.
That a Company of artificers be with the Artillery in the field for various contingent services.
Magazine & Laboratories for the reception & preparation of military stores of every speceis be form'd at Hartford in Connecticut & Lancaster County in Pennsylvania & that to each Laboratory there be besides the [persons] to prepare the stores a sufficient number of able artificers to make ammunition Waggons [tumbrils], Space Carriages for Cannon & c
That each Laboratory have a director whose Rank and pay shall be equal to a Lieut Colo & a subDirector with the rank & pay of Capt
That two persons be empowerd to get Cast or otherways procure 150 pieces of brass Cannon & Ho[illegible] of such sizes as the Command [4] officer of artillery shall & the Commander in Cheif approve. that the persons appointed for this purpose be instructed to spare neither pains or expence in getting the Cannon Cast & mounted as soon as possible
That the Commanding officer of Artillery be empowerd to form the the Magazines & Laboratories & Artificers immediately
[written separately on the opposite end of page]
200 hundred light Waggons
cover'd well with painted
cloths to look behind 2[Horses][illegible]
[single] [Horses]
100 Cover'd Waggons
500 setts [drag] Ropes 6 [setts]
500 setts [illegible]
500 setts Horn [Harness]
single for field peices
200 oyl cloths or painted
Cloths from a Waggon Cover
to 6 feet square
[docket]
Plan for Establishment
Laboratories & c