Rush, Benjamin (1746-1813) to Henry Knox
High-resolution images are available to schools and libraries via subscription to American History, 1493-1943. Check to see if your school or library already has a subscription. Or click here for more information. You may also order a pdf of the image from us here.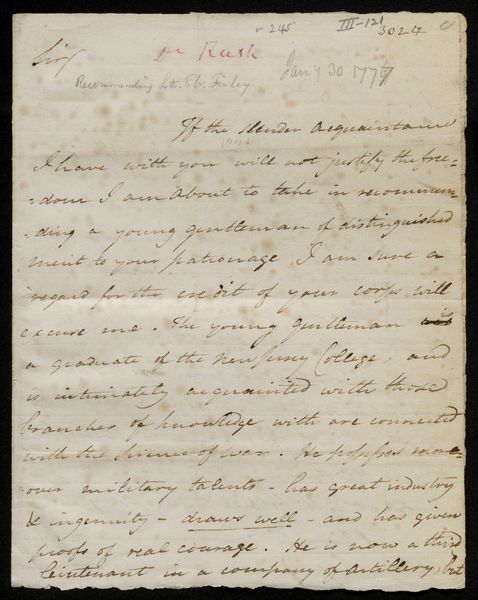 A high-resolution version of this object is available for registered users. LOG IN
Gilder Lehrman Collection #: GLC02437.00525 Author/Creator: Rush, Benjamin (1746-1813) Place Written: Baltimore, Maryland Type: Autograph letter signed Date: 30 January 1777 Pagination: 3 p. : address : docket ; 21.1 x 16.6 cm
Summary of Content: Recommends a young officer named Ebenezer Finley to Knox's artillery corps Finley is "intimately acquainted with those branches of knowledge with are connected with the Science of war." Is currently a third lieutenant in another artillery group, but has been offered command of a Maryland infantry company. But since "his genius & inclinations both mark him for the artillery," Rush is hoping top secure him a company of artillery under Knox instead. States Finley is also "a perfect little gentleman." Also mentions that his father is the late Doctor Samuel Finley, the President of the College of New Jersey, now called Princeton, where Ebenezer was a graduate. "On public service" written on address leaf.
Background Information: Benjamin Rush was a signer of the Declaration of Independence, the physician general of the army in 1777, and the Treasurer of the United States Mint.
Samuel Finley was the fifth ...president of Princeton, and before that had run an academy in Nottingham, Maryland, where Rush had been a student.See More
Full Transcript: Sir,
If the slender acquaintance I have with you will not justify the freedom I am about to take in recommending a young gentleman of distinguished merit to your patronage, ...I am sure a regard for the credit of your corps will excuse me. The young gentleman [struck: was] [inserted: is] a graduate of the New Jersey College, and is intimately acquainted with those branches of knowledge with are connected with the Science of war. He possesses moreover military talents - has great industry & ingenuity - draws well - and has given proofs of real courage. He is now a third lieutenant in a company of artillery, but [2] has the Offer of company of infantry from the State of Maryland. As his genius & inclinations both mark him for [struck: an] the artillery, he is willing to give up [struck: the] his offer of a company of [struck: artillery] [inserted: infantry] for a company of artillery in your brigade. You will I am sure esteem him a great acquisition. [strikeout] I should have informed you before that his military talents receive great lustre from the purity of his morals, and from [struck: his] the agreeableness of his manners. He is a perfect little gentleman. His name is Ebenr: Finley - He is the third son of the late Dr Finley the president of the College of New Jersey.
Please to communicate the event of this application to me as soon as [3] possible, and it shall immediately be communicated to Mr Finley. -
I am Sir with great esteem
your
most
Obedient
Hble
Servt
Baltimore B: Rush
Jany: 30.
1777.

[address leaf]
Brigadier General Knox
at
public Service) Head Quarters

[docket]
Doctor Rush
Recommendation of
Baltimore Jany 30
1776 -See More
People: Rush, Benjamin, 1746-1813
Knox, William, 1756-1795
Finley, Ebenezer, 1746-1784
Finley, Samuel, 1715-1766

Historical Era: American Revolution, 1763-1783
Subjects: Letter of Introduction or RecommendationRevolutionary WarRevolutionary War GeneralArtilleryContinental ArmyMilitary HistoryInfantryEducationContinental CongressCongress
Sub Era: The War for Independence