Knox, William (1756-1795) to Henry Knox
High-resolution images are available to schools and libraries via subscription to American History, 1493-1943. Check to see if your school or library already has a subscription. Or click here for more information. You may also order a pdf of the image from us here.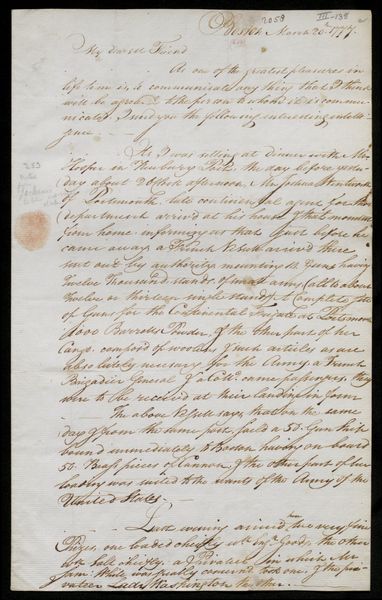 A high-resolution version of this object is available for registered users. LOG IN
Gilder Lehrman Collection #: GLC02437.00555 Author/Creator: Knox, William (1756-1795) Place Written: Boston, Massachusetts Type: Autograph letter signed Date: 20 March 1777 Pagination: 2 p. : address : docket ; 32.3 x 19.8 cm.
Mentions his plan to "enter the Service" once he raises a certain sum, which he is confident he will have soon. He has bought two hundred pounds worth of quills, paper, and similar articles from Newburry, and thinks they will be easy to turn a profit on since they are scarce in Boston. William and Lucy Knox had reopened the bookshop that Henry had operated before the war, and tried to sell these items there. States that he ran into Joshua Wentworth of Portsmouth, who informed him of the arrival of a French vessel carrying a large cargo of arms for the Continental Army. French officers were also on board, and another French ship with more weapons was expected soon. Mentions the capture of British supply ships. Many of these same events are mentioned in GLC02437.00558. Discusses pistols and horses belonging to Henry. Closes by saying that he is confident he can raise the necessary money, and wishes to discuss what to do next.
Joshua Wentworth was a state senator from a prestigious New Hampshire family.
[draft]
"…I was sitting at dinner with Mr Hooper in Newbury Port, the day before yesterday about 2 OClock afternoon, Mr Joshua Wentworth of Portsmouth late continental agent for that department arriv'd at his house & that moment from home informing us that just before he came away a French Vessell arriv'd there sent out by authority mounting 10 Guns having Twelve Thousand stands of small arms, (all to about Twelve or thirteen single stands) A Complete set of Guns for the Continental Frigate at Portsmouth 1000 Barrells Powder & the other part of her Cargo, compos'd of woolens & such articles as are also lately necesary for the Army, a French Brigadier General & a Collo. came passengers, they were to be reciev'd at their landing in form
The above Vessell says, that on the same day & from the same port, saild a 50-Gun Ship bout immediately to Boston having on board 50 Brass pieces of Cannon & the other part of her loading was suited to the wants of the Army of the United States.
Last evening arriv'd here two very fine Prizes, one loaded chiefly wth. Engsh. Goods, the other wth. Salt chiefly, a Privateer in which Mr Sam: White was greatly concern'd took one, & the privateer Lady Washington the other.
[2] After you set out from hence, we made very particular search for that pair of Pistolls which belong'd to Hunt & Sherburne & for which they had the modesty to ask Fifteen pounds but could not find them therefore concluded that one of your servants must have put them on board the [illegible] without your knowledge thro' mistake, I therefore wish you would return, or inform me whether you intend Keeping them, as they say they can sell them immediately for the sum they ask'd you …
Dear Harry I am fortunate beyond my most sanguine expectations, & [illegible], but why should I say if I am sure you are dispos'd to make me happy, therefore I must beg you to point out a mode of procedure for me, in your next as I am pretty certain I shall be able to go from hence in 3 Weeks or a month … I'll tell you that within tehse ten days, I have raisd in articles sold out of the store between three & four Hundred pounds, & by an advantageous Bargin at Newbury, the day before yesterday. I am certain of raising the whole sum in the time I mention.
Your Affectionate
Wm Knox